+5
2 CYCLE 14" CHAIN SAW
Model: #RY3714
+5
The RYOBI 2-Cycle 14" Chain Saw is the perfect saw for any homeowner. This unit comes equipped with a powerful 37cc engine and a 14 in. bar and chain! This saw also features an anti-vibration handle that will increase comfort and cut down on user fatique. The automatic oiler will ensures that you will get the maximum life out of your chain. If safety is a concern, this saw has you covered. The chain break on this unit is inertia-activated and the end of the bar features a safety tip to protect against kickback. All of these features are covered by the RYOBI 3 year warranty.
Features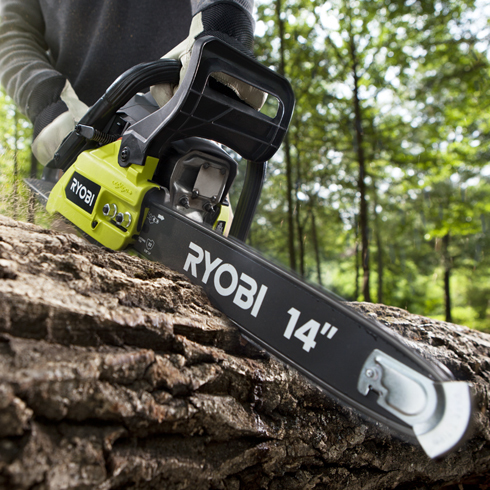 14 in. 37cc 2-Cycle Gas Chain Saw
Powerful 37cc engine
Anti-vibe handle for increased user comfort
Adjustable automatic oiler for longer bar and chain life
Tool-less air filter cover for easy service
Side access chain tensioner for easy adjustment
Inertia-activated chain brake stops chain automatically
Safe-T-Tip protects against rotational kickback
3-year limited warranty
Specifications
Engine Type: 2-Cycle
Weight: 10 lb
Engine Size: 37cc
Bar Length: 14 in.
Includes
14 in. Fully Assembled Chain Saw
2-Cycle Engine Lubricant
Combination Wrench
Operator's Manual
Reviews
2 CYCLE 14" CHAIN SAW
2 CYCLE 14" CHAIN SAW
is rated out of
5
by
1212
.
Rated

5

out of

5
by
Old Mountain Man
from
Great tool for quick job
I bought this 14" chainsaw last Friday (5-18-18) to help with building a 2nd shoot house for hunting on my property. The shoot house is deep in the woods and no electricity and a cordless circular saw can not hold up to the job. This chainsaw is awesome. After putting the bar oil in and filling it with Trufuel 50:1, I primed it as directions instructed, pulled choke out, gave it 3 pulls and pushed choke back in. The next pull had the engine running. I made quick work of my first several cuts and pushed stop button. The remainder of day, I used off and on with no failures to start, and made cuts I needed without a problem. Excellent tool!!!
Date published: 2018-05-24
Rated

5

out of

5
by
Oldawg
from
Great little saw!
I have several downed trees from hurricane Irma, some uprooted, some broken off - a real mess! I was using two larger saws - an 18" and a 20" which were heavy, loud and hard to start. A neighbor came over to help with an old Ryobi 14" saw and when I saw how easy it started and the job it did, I went right to Home Depot and bought one. It did a fine job, lightweight and was priced right, so when a couple of other neighbors offered to help, I bought another one for them to use. My only complaint was the original chain didn't seem to hold an edge for long, so I put Oregon chains on both of them. Now I have no complaints!
Date published: 2018-02-04
Rated

5

out of

5
by
Troon6
from
Very Smooth To Operate
My old chainsaw gave up the ghost just as I started to cut down a palm tree. Needless to say, after working with my old chain saw to get it going, I wanted something that was easy to use. I did a quick review and decided on this Ryobi. Home Depot delivered it the next day. I put in the chain saw oil and the premix fuel and it started up on the second pull. It ran just as promised. It only stopped when I turned it off. I quickly cut down the tree and then cut it in small sections so I could carry it away. It was the easiest tree project I have ever had. I know, because I did a lot of trimming after hurricanes in when I lived in Florida.
Date published: 2020-04-28
Rated

5

out of

5
by
Lumber Jack
from
To Easy.
I had a tree fall over in a storm last week and decided to tackle it myself rather than call out a tree service. My old 14in chainsaw was on its last leg and struggling to stay running and make cuts without bogging down. I took the opportunity to buy a new saw, I own a few of Ryobi battery tools and decided to buy the Ryobi 14in gas saw. Needless to say the first time starting it up and running it though a whole tree was a breeze. Never expected the initial start up to be so easy and the saw ran amazing. The user manual is also very easy to read and understand. You will not find another saw at this quality for this price!
Date published: 2017-06-30
Rated

5

out of

5
by
EnergyEcon
from
Out of the Box Solution for Novices
I was doing a landscape rehab using repurposed railroad ties. I wore myself out doing 10 of the 24 ties using a lumber saw. Had never used a chain saw (except the Ryobi Pole saw - electric). So I bought one and within a half hour of reading the following the startup info I was cutting like crazy. Unfortunately, I did not notice that the chain blade had loosened (which was clearly in the instructions and typical for new chains to do). So a dulled the chain and made the job harder and put strain on the saw. I replacement chain (about $15 delivered) had me back in business and this time I finished with both a still sharp chain and a nice project in the books!
Date published: 2020-09-29
Rated

5

out of

5
by
Anonymous
from
Ryobi comes through again.
Years ago I purchased a Ryobi hedge cutter and it has been a workhorse since then. My "brand x" chain saw finally gave out so I made sure to get a Ryobi instead of another brand. This chain saw is just as easy to start, run and use as the hedge cutter. It has a couple of features (chain oil adjustment & idle adjustment) that not only make it better to operate but also safer because I do not have to take it to a dealer for these adjustments. It cuts great, idles correctly, does not kick oil all over the place, is easy to handle and maintain. THIS is what a quality product is supposed to be. EXTREMELY pleased with your product(s)!
Date published: 2019-08-21
Rated

5

out of

5
by
tourdivide
from
Perfect Homeowner Chainsaw
I am a new homeowner and I purchased this chainsaw with the intention of clearing a large hedgerow over the course of a few weeks. The chainsaw worked perfectly for that purpose but two weeks after purchase its true colors shined through after a micro burst event occurred in my neighborhood. A portion of a large oak tree fell into my yard missing my house, my fence and my shed and completely taking up the yard. I started taking the tree together carefully and after a few hours I had a nice pile of wood for the fire pit and all the small branches on the street-side for pick up. This chainsaw was a great investment and I could no be happier with its performance
Date published: 2020-10-28
Rated

5

out of

5
by
Trandall
from
Starts every time
I bought this chainsaw last year and so far it has never failed me. I brought down huge dead branches off a walnut at my grandma's farm and proceeded to cut them into firewood lengths. Ran the machine all day long only refueling once, never had to tighten the chain, cleaned it up a little bit and stored in my shed for several months. Next time I took it out to help my neighbor bring down a small tree, fired right up and did a great job. I was actually surprised, as I had an old McCullough before and had to really work at it to get it going after storing it for awhile. Compared to what I was used to, this was a dream to use.
Date published: 2019-04-06