+2
18-Volt ONE+ Lithium-Ion Cordless String Trimmer with 1.5 Ah Battery and Charger Included
Model: #P20130
Shaft rotates for convenient edging function
10" cut swatch for easy trimming of smaller yards
Simple press-and-turn conversion to edger mode
+2
Lightweight, Easy to Use and Easy to Store
Features
Compact and Lightweight Design
For User Comfort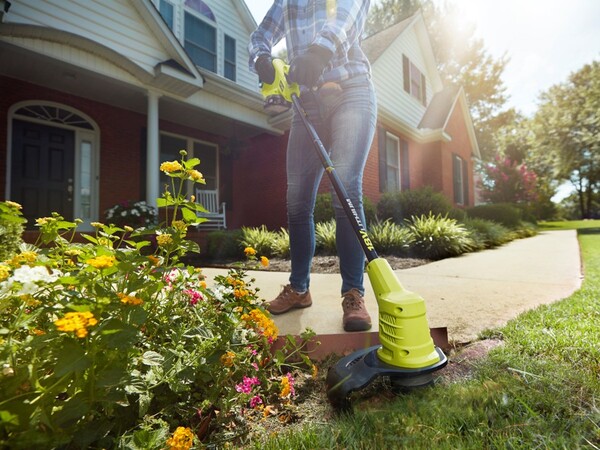 Cutting Width
10" cutting width that is ideal for light-duty jobs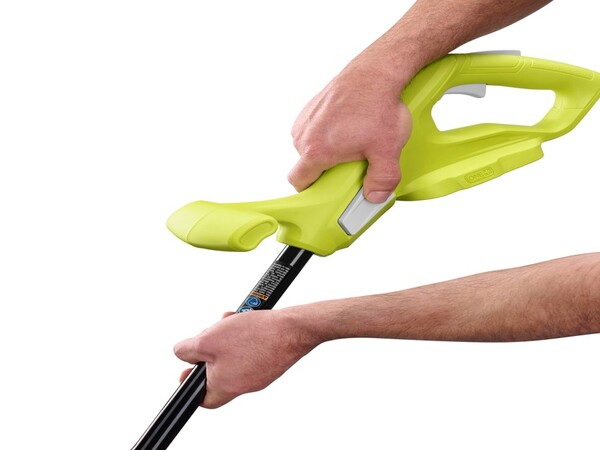 Rotating Shaft
Easily switch between trimming and edging
System Compatibility
Over 175 ONE+™ Tools – All work with any RYOBI ONE+™ 18V battery
Specifications
Dimensions
Battery

18V ONE+™ 1.5 Ah Battery

Cutting Swatch

10"

Line Advancement

Auto-Feed

Weight

6 lbs.

Warranty

3 Year
Includes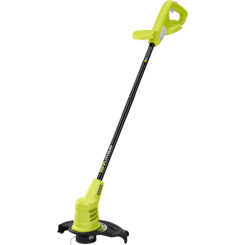 18V ONE+™ Cordless String Trimmer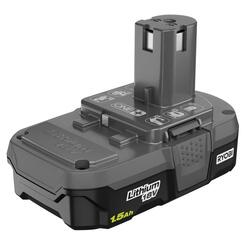 [#<ProductFeature id: 2975, title: nil, content: "18V ONE+™ Cordless String Trimmer", photo: "a33c9c4c-d7b4-41b7-8d5c-a2fdc890f27f.png", created_at: "2020-09-09 20:54:31", updated_at: "2020-09-09 20:54:31", product_id: 1408, sort: 0, enhanced_type: "included_item", enhanced_group: nil, enhanced_icon: nil>, #<ProductFeature id: 2976, title: nil, content: "18V ONE+™ 1.5 Ah Battery", photo: "47e7b92d-7f91-40ae-892b-29f26cc9b990.jpg", created_at: "2020-09-09 20:54:33", updated_at: "2020-09-09 21:01:44", product_id: 1408, sort: 1, enhanced_type: "included_item", enhanced_group: nil, enhanced_icon: nil>, #<ProductFeature id: 2977, title: nil, content: "18V ONE+™ Charger", photo: "a81cdcd9-5ddd-4c4a-a522-5a4c868fb3e7.jpg", created_at: "2020-09-09 20:54:34", updated_at: "2020-09-09 20:54:34", product_id: 1408, sort: 2, enhanced_type: "included_item", enhanced_group: nil, enhanced_icon: nil>]
Reviews
18-Volt ONE+ Lithium-Ion Cordless String Trimmer with 1.5 Ah Battery and Charger Included
18V ONE+ String Trimmer Kit
is rated out of
5
by
557
.
Rated

5

out of

5
by
Moosmomma
from
Light weight
I LOVE my cordless string trimmer (weed wacker) so much I bought a second one. It is light weight and so easy to operate. I have had 3 surgeries on my hand and I am able to use this without causing a lot of pain.
Date published: 2022-12-25
Rated

5

out of

5
by
MartinR
from
Good trimmer
Works great. i don't have a big lawn so i use it for maybe 15-20 minutes and battery never failed me.
Date published: 2022-10-08
Rated

5

out of

5
by
LimaDelta
from
Better than Yardworks
First, I purchased a Yardworks string trimmer from Canadian Tire. It was a comparable price to this one, but seemed to come with more features like an adjustable shaft, adjustable handle, larger cutting swath and a 20V battery. After assembling the Yardworks trimmer and trying the "fit" without actually running it, I noticed some issues. I could not get the cutting mechanism to be flat without holding the trimmer close to my feet. This negated any advantage with the adjustable shaft, then the handle, while adjustable did not seem to be able to adjust to a comfortable position…granted I did not spend a lot of time trying to get it just right because of the last issue. It took 7 hours to charge a 1.5AH battery. Unacceptable! The Ryobi on the other hand did not have an adjustable shaft, but the standard height fits me perfect. The handle is also positioned perfectly for me and when held the trimmer mechanism is level with the ground. Lastly I got this trimmer in a combo with the 18V blower, so it has the 2AH battery and still only takes a little over an hour to charge from dead. This is exactly what I was looking for, now hopefully it lasts as long as (some) Ryobi products are known to!
Date published: 2022-09-27
Rated

4

out of

5
by
Tirshis
from
Very light and maneuverable
Just purchased this item and used it today. Overall works well edges ok once you get used to how to do it. Biggest issue that prevents 5 stars is the need to consistently press trigger to get line to feed. It goes through line fairly quickly. The supplied battery has a limited run time, but that wasn't a major issue since I own a number of Ryobi tools so I just used a 4ah battery from a different tool and it worked fine. Price point was good and it does what a budget trimmer should do. Very easy to put together and use. Recommend it for someone who doesn't have a lot of trimming to accoomplish.
Date published: 2022-09-22
Rated

4

out of

5
by
guerrilla gardener
from
Nice lightweight string trimmer
I am a woman who likes to do her own yard work. This is a convenient light trimmer that is easy to pop the battery in and get edges trimmed quickly. I am still learning to use this. One problem I have is it is easy to trim so closely the string gets used up and disappears inside the spool. There is nothing to keep this from happening but experience. Am still learning how to adjust the spool. I use this on St Augustine and Bermuda primarily.
Date published: 2022-09-18
Rated

5

out of

5
by
MOH 39
from
Nice light unit for my wife, she loves it
We recently purchased this strimmer and it is perfect for my wife, not heavy to handle and small enough to move between our home and cottage
Date published: 2022-08-28
Rated

5

out of

5
by
KatieC777
from
Quiet and efficient
I used it for the first time today and loved how easy it was to extend the trim line
Date published: 2022-08-19
Rated

5

out of

5
by
bob1950
from
Lightweight
Compared to my old string trimmer this is much easier to use due to its lightweight design. The power is plenty for trimming grass.
Date published: 2022-08-16