+3
18V ONE+™ 1 Gallon Chemical Sprayer
Model: #P2800A
+3
To easily distribute herbicides, pesticides, and fertilizer in your yard, the RYOBI 18V ONE+™ Chemical Sprayer is the perfect tool. With no pumping required and a translucent 1 gallon tank, monitoring fluid levels is simple. This chemical sprayer has a durable brass nozzle that adjusts for multiple spray patterns and a detachable tank for removing excess liquid and cleaning. For additional convenience, the chemical tank cap doubles as a measuring cup and the tool can be used one handed or two handed depending on user preference. Backed by a 3 year warranty.
Features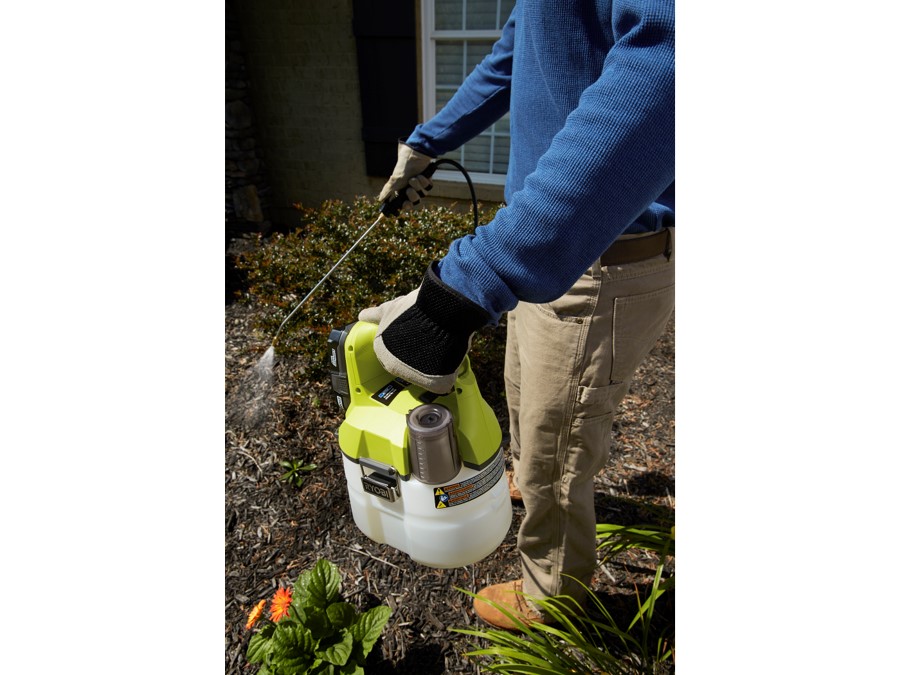 • Over 175 ONE+™ Tools – All work with any RYOBI ONE+™ 18V battery • No pumping required • Translucent 1 gallon tank • Durable brass nozzle adjusts for multiple spray patterns • Tank easily detaches for removing excess liquid and cleaning • 4.5" hose with 45 PSI
Specifications
Power Source: 18V ONE+™ Battery
Tank Size: 1 Gallon
Pressure: 45 PSI
Tank Material: High Density Polyethylene
Hose Length: 54"
Nozzles: Adjustable
Warranty: 3 Year
Includes
18V ONE+™ 1 Gallon Chemical Sprayer
Operator's Manual
Reviews
18V ONE+™ 1 Gallon Chemical Sprayer
18V ONE+ 1 Gallon Chemical Sprayer
is rated out of
5
by
219
.
Rated

1

out of

5
by
steve1944
from
Disappointed
My first was bought in 2019, at first I just tried it with water and was able to get a decent spray pattern, when I went to acutal spray chemicals with it about 10 months later I ciuld get a very weak stream only and no spray pattern. I went to Home Depot to get it sent for warranty repair, 4 1/2 months later I went to check and the repair depot closed it out as they couldn't repair it (no one contacted me). Home Depot did give me a new one to replace it but I had to argue to get the diagnostic fee credited (which they did do as well). I can only hope the new one works better when I really go to use it in another 8 or 9 months. It works now.
Date published: 2020-09-22
Rated

5

out of

5
by
JRBjr
from
Ryobi - "You've come a long way Baby"
3 tools registered - 5 or 6 from my kids as gifts (didn't register as thought they did), I have never in 3 years or more had ONE FAIL ME . . . I was so impressed I bought the large capacity batteries and chargers and these are the only tools I use around the house now. I use them a lot, remodeling, building deck, woodwork, yard work etc . . . I had RTs years ago and small engine mechanic told me to throw it away ... they upped their game, made changes and are my "go to" tools around the house. (FYI - I know no one whom works at RTs nor am I receiving anything for the review). My son-in-law next door is using mainly Rts now also!
Date published: 2021-04-11
Rated

5

out of

5
by
BradN
from
Compact and efficient
Purchased this sprayer a month ago after my pump sprayer what not pressurizing. The battery power was interesting. Another pump sprayer was cheaper, but the idea of not pumping and the one handed design made me want to try it. I should have purchased it sooner. Easy to fill, easy to clean, battery charges quickly and lasts quite a while. I usually only spray a gallon at a time and then clean the tank. Easy to clean just add soap and water and start it up and lock the sprayer on until the tank is empty then add water to rinse and repeat the process. I love the easy and one handed operation.
Date published: 2021-06-28
Rated

5

out of

5
by
Trish2222
from
Game changer
I've used this several times already and I love it. I have a "natural" yard and was having to spray the back constantly to keep the English ivy from my neighbors back yard from invading. I accidentally bought some premixed weed killer that had a battery operated wand on it and it saved me a lot of time. That was the first time I realized I didn't have to use a hand pump sprayer. I have several other ryobi 18v tools so this was perfect for me as I already had 3 batteries. I believe this cut my spraying time in half and my arm was not fatigued after. I highly recommend it.
Date published: 2021-04-07
Rated

5

out of

5
by
ValerieD
from
Service exceeds expectations
I bought the 18 volt chemical sprayer and was sadly disappointed. I reported this and I was surprised to receive an email. Alex and Casey on the RYOBITOOLSREVIEWS team truly cared about my experience. We exchanged several emails and I was sent another chemical sprayer. I used it today and loved the power that was maintained throughout my job. It is service like this that I received from Alex and Casey that make me a Ryobi fan and will tell all of my family and friends. They wanted the old sprayer sent back, but due to Covid I was hesitant to go to the post office. They didn't blink an eye and still sent me a replacement. tools are man-made and there will be malfunctions from time to time… Ryobi stands by their products 100%.
Date published: 2020-10-13
Rated

1

out of

5
by
wtolentino
from
did not last long
used it about not more than 10 times and is no longer spraying liquids. i used it for gardening and lawn. there is no blockage on the tube and on the metal sprayer tip but still it won't spray. the motor is running but no water is coming out. also it's under warranty but the closes authorized ryobi repait shop is about more than an hour and half from our area. i was hoping that ryoibi has the same warranties with other products where you can send back to them and have them repair it or send you a new one. but this is not the case with ryobi sprayers.
Date published: 2021-11-04
Rated

1

out of

5
by
Bozee
from
Stopped working after 2 uses
Purchased the sprayer in February of 21'. Used it once to spray for bugs, cleaned it and put it up. Went to use it today and it sprayed for a minute and now the motor runs but no liquid is pumped remove suction and discharge lines, no plugs. Called Home Depot and the said there is a $35, non-refundable diagnostic fee and it will take 5-8 weeks to have it looked at. It's a $58 sprayer that's less than 4 months old. What a disappointment in Roybi and Hone Depot. You start buying into a ECO system and this happens.
Date published: 2021-05-30
Rated

3

out of

5
by
Benj1205
from
Good potential
I have the product for over a week. Initially I used this to water my plants inside the greenhouse without issue. Today I used this product to apply herbicide that needed to be mixed with surfactants and a herbicide dye. While the product design is excellent, the main issue I had is that the water does not get emptied fully without tilting the container multiple times. This will change the actual measurement for the next batch unless you dump that remaining content. This is due to the bottom being flat compared to the other pump sprayers out there where the bottom that has a funnel shape where the remaining water accumulates and makes it get siphoned easier. Overall I rate this product 3/5. Hopefully Ryobi will have a replacement tank with a better design to address this issue
Date published: 2021-08-20