+3
18V ONE+™ 1 Gallon Chemical Sprayer
Model: #P2800A
+3
To easily distribute herbicides, pesticides, and fertilizer in your yard, the RYOBI 18V ONE+™ Chemical Sprayer is the perfect tool. With no pumping required and a translucent 1 gallon tank, monitoring fluid levels is simple. This chemical sprayer has a durable brass nozzle that adjusts for multiple spray patterns and a detachable tank for removing excess liquid and cleaning. For additional convenience, the chemical tank cap doubles as a measuring cup and the tool can be used one handed or two handed depending on user preference. Backed by a 3 year warranty.
Features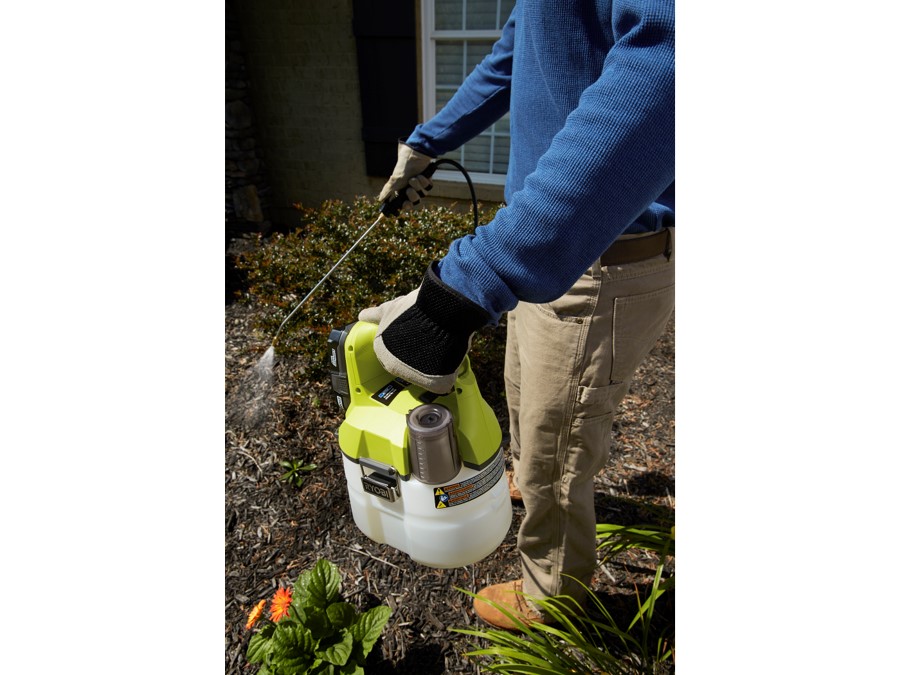 • Over 175 ONE+™ Tools – All work with any RYOBI ONE+™ 18V battery • No pumping required • Translucent 1 gallon tank • Durable brass nozzle adjusts for multiple spray patterns • Tank easily detaches for removing excess liquid and cleaning • 4.5" hose with 45 PSI
Specifications
Power Source: 18V ONE+™ Battery
Tank Size: 1 Gallon
Pressure: 45 PSI
Tank Material: High Density Polyethylene
Hose Length: 54"
Nozzles: Adjustable
Warranty: 3 Year
Includes
18V ONE+™ 1 Gallon Chemical Sprayer
Operator's Manual
Reviews
18V ONE+™ 1 Gallon Chemical Sprayer
18V ONE+ 1 Gallon Chemical Sprayer
is rated out of
5
by
370
.
Rated

1

out of

5
by
DarinC
from
Worked a few times
I bought this last year 2022 used 3 times worked ok, used 2 times this year and on the 2nd time the were the motor clips onto the tank the plastic broke off of the motor part, so now I would have to get a complete motor part or at least the bass plate, I do not recommend
Date published: 2023-05-21
Rated

4

out of

5
by
RVSREV
from
Works! But watch out for getting air in the lines
Did NOT work out of the box. Had a small problem where air was in the line and the instructions did NOT show how to clear it. Otherwise, they would have gotten 5 stars.
Date published: 2023-05-20
Rated

5

out of

5
by
Upstate Andy
from
Nice features and well constructed
Just bought it to add to my collection of Ryobi 18v tools. My old sprayer was heavy and required me to pump in up continually. My new P2800 is light, easy to handle, works with my other 18v batteries and makes spraying jobs a walk in the park for a senior citizen like me. I love the construction of it.
Date published: 2023-05-20
Rated

4

out of

5
by
Grandhighpoobah
from
In My Opinion
Like the fact that the sprayer maintains a constant pressure, and that constant hand pumping is not required. that said, a higher pressure would be nice for spraying higher in trees, etc.
Date published: 2023-05-18
Rated

3

out of

5
by
Pap2
from
1 problem
Need fluid strained really fine in order for it to spray
Date published: 2023-05-16
Rated

1

out of

5
by
broomman
from
Why
I bought this a year ago and used it 4 times cleaned it each time and was using it this spring and it quit working Been try to get thought on the the phone in chat been waiting for overa have hour to talk to someone What is one to do
Date published: 2023-05-15
Rated

5

out of

5
by
SwimRef54
from
Easy to Use
I purchased this several years ago along with some extra tanks. It is easy to spray and refill.
Date published: 2023-05-09
Rated

4

out of

5
by
TSantos
from
Functional and easy to use product
Bought this a few days ago. Right out of the box, easy assembly, instructions very helpful. Very light, convenient and easy to use as weed killer sprayer. But be aware. You tend to use more liquid content compared with the hand pump the solution came with. Could be because of the pressure created by the electric pump. I loved the long wand getting to hard to reach spots. Not a five star due to leaks at the connectors.
Date published: 2023-05-08
Rated

1

out of

5
by
Scarlet Flier
from
Throwing cold water on RYOBI chemical sprayer
Since last spring, I've purchased not one but three RYOBI 18V One+1 Gallon Chemical Sprayers. I use the sprayers for treating weeds. Immediately after using a sprayer, I empty the tank (I use 30% vinegar with a tablespoon of dish detergent) completely, clean the tank by filling and emptying it twice with fresh water and finally run a full tank through the spray unit. Problem is, the on/off switch and/or the motor don't more than two or three months. And while the unit is in for warranty repair, I needed a second unit because the weeds don't stop growing during the 3-6 weeks of repair time because RYOBI lacks an extensive warranty repair network which forces all the repairs on overwhelmed shops. This year, one unit lasted through two weekends. So I pulled out the backup that had been repaired under warranty last year. That unit failed to turn on either. So back to the warranty repair center with both and a trip to Home Depot to purchase a third unit. I followed that with a very straight forward email to RYOBI about the unreliability of their product, a report that included the comments from the owner of the repair center who sees these units all the time. He says it's always the same repair issue. RYOBI responded to but did not address my issue. I requested twice now for them to get back to me with a resolution. Since I've invested in several other RYOBI tools (which is exactly what they're looking for their customers to do), I'm not inclined to buy a competitor's product that isn't compatible with RYOBI power packs. I'm also supremely disappointed in RYOBI's weak response. They have a real problem with this product (thankfully the only RYOBI product that I've ever needed warranty repair on) and they should address it in a professional manner instead of sending me a rather dismissive email and ignoring my follow up requests for help. If I was starting from scratch with no tools whatsoever but knowing what I know now, I would not purchase a RYOBI product.
Date published: 2023-05-06
Rated

1

out of

5
by
kens 47
from
Sprayer disaster
I bought a 2 gallon chemical sprayer in May 2021. After using it for six times and cleaning after each use, it would not spray. I sent it to the repair facility and they kept six months before it was returned to me. I tried on return and it worked so I sat it aside and the next I tried to use the motor won't turn on, I returned it to repair facility and they advised me it would be two months before they coulf look at it.
Date published: 2023-05-05