+8
18V ONE+™ 10" Chain Saw
Model: #P546A
+8
The 18V ONE+™ 10" Chain Saw is ideal for pruning and light tree or bush limbing around the home. Designed with a more powerful motor this saw is capable of cutting 2X faster than its predecessor. Features like the variable speed trigger and the push-button chain oilier make operation and maintenance easier then ever. Part of the ONE+ System this tool is compatible with all RYOBI 18V ONE+ batteries and chargers.
Features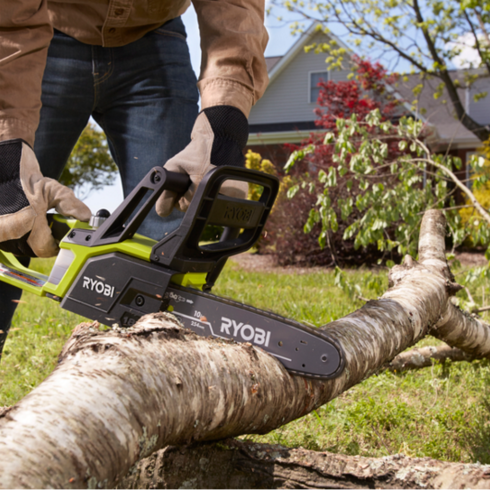 2X faster cutting than previous model*
10" Bar & Chain is ideal for prunning & light limbing
Push-Button Oiler for easy chain lubrication and longer chain life
On-Board tool storage for convenience and quick bar & chain adjustments
Specifications
Bar & Chain Size: 10"
Chain Oiler: Push-Button Lubricator
Throttle: Variable Speed
Replacement Chain: Y40 .043"
Weight: 5.8 lbs.
Warranty: 3-Year Limited
Includes
18V ONE+™ LITHIUM+™ 10" Chain Saw
Scabbard
Hex Key
Operator's Manual
Reviews
18V ONE+™ 10" Chain Saw
18V ONE+™ 10" Chain Saw
is rated out of
5
by
571
.
Rated

5

out of

5
by
Pontific8
from
Quiet, Efficient & Safe Chainsaw in 6 lb package!!
I bought this 10" 18 volt Ryobi chainsaw a couple of months ago to help trim my daughter's heavily-wooded 5 acre NW Washington home site, including making a fun 5 to 6' wide walking trail inside the perimeter. I really like the saw's very light weight, quickness of cut and the lack of gas fumes and noise! I also enjoy seeing my daughter and 15 year-old grandson use it with ease and safety. When deciding to purchase, I was tempted by larger and higher voltage chainsaws. However, because I have bought so many different Ryobi 18 volt tools the last several years, the decision to stick with 18 volts was easy....and I am very happy with the results!
Date published: 2017-06-08
Rated

5

out of

5
by
TJB_Slacker
from
Surprising performance
I just purchased this unit yesterday to replace my 14" gas powered saw with a failed clutch. I was in the middle of cleaning up some downed tree limbs and needed to finish the job quickly. Since I already had several 18V Ryobi batteries I decided to purchase a saw that employed the same ones even if it was only 10 inches. Amazingly, I was able to finish up using a single 4AH battery with power to spare. Of course it helps to have a nice sharp blade but I'm pretty sure it would have taken me as long or longer to use the 14" gas saw by the time you factored in fueling, oiling, starting, etc. I don't think I'll ever go back to a gas powered saw now.
Date published: 2020-08-05
Rated

5

out of

5
by
Yardman 201
from
Perfect for tree limbs falling into yard
I already have Ryobi tools with batteries and charger so this was a no brainer. I just snapped my 18 volt battery in and started using it on a good size tree limb that fell into my yard. I was able to cut off all the smaller branches and then went right through the thickest trunk branch with ease. Very happy with this purchase and it was delivered just in time to put debris into a dumpster that is being taken away tomorrow. It had plenty of power and battery was hardly drained. I also bought my nephew an entire collection of Ryobi tools as a housewarming gift. He loves it all and has added various tools to his collection. :-)
Date published: 2020-09-15
Rated

5

out of

5
by
Joe2017
from
Great for pruning jobs
Already have a Ryobi 18v One+ string trimmer that works great and researched this chain saw and decided to purchase it as well. Have done a lot of tree pruning in last month and am very happy with this chain saw. Have used on limbs up to 6" and if you let the chain saw do the work without forcing it does a great job. Lightweight which helps on these smaller jobs. Small chain oil tank so keep an eye on oil level and make sure that you drain chain oil before putting up or it will leak onto whatever surface you set it on. Overall very pleased with this chainsaw because I don't have to get out my gas chain saw to do small jobs.
Date published: 2017-07-27
Rated

3

out of

5
by
RyOBI1KanOBI
from
Capable
I was super anxious to get this saw and even though it has/does serve it's purpose well, it lacks the power to aggressively saw smaller dead limbs. It chews away at the live stuff as long as the diameter is 3-5 inches it seems... everything smaller the teeth will grab without a good consistent hold and wanna come back at you way too easily in my opinion. I would caution anyone to be mindful of this. I only had fully charged 3ah batteries to use, maybe I need a higher ah? I am very happy with my purchase and do recommend this chainsaw, just recommend a little more caution when choosing what you're cutting.
Date published: 2020-01-20
Rated

5

out of

5
by
Hogan5651
from
Easy and quiet!
Had some strong storms cone through and knock some sizeable limbs out of one of our trees. Had one get knocked out last summer, but it was smaller so I hand cut it. This storm I had multiple limbs and they were much larger. I already had some Ryobi 18v tools so I decided to take the effort out of the work and pick up the 10" chainsaw. Made the work much easier. What would have taken a couple of hours by hand cut the work down to minutes…and I was able to beat another incoming storm. All I had to do was pull it out of the box, add the chain oil, and start cutting. It was super easy to use, super quiet, cut great, and made quick work of my task.
Date published: 2021-06-28
Rated

5

out of

5
by
Paul in NC
from
upgrade replacement for my old "blue one+"
I have been using the old little blue ryobi 10-inch chain saw for well over a decade and a half. It worked great for how it was used. It was slow but very steady. I used it to cut down and cube almost a dozen 8-10 inch oaks and poplars, not to mention using it for just about any rough-cut around the house jobs. I finally managed to use it to its demise. I picked up the "new little green one" to take its place. Amazing for what it is. the chain speed is more than doubled and the duration and power is way better than the old one. Again, not meant for lumber jacking, but great for little and medium stuff around the yard.
Date published: 2020-11-10
Rated

4

out of

5
by
Jessicatorti
from
Great small limb chopper
It is easy to use easy to start light weight could be a little cheaper I feel like should be less the hundred dollars. The oil is leaking out I don't know why needs to get fixed already only used it a couple times. Great for younger or very old people that aren't strong
Date published: 2017-04-19