+16
18V ONE+ 320 PSI EZClean Power Cleaner with 4.0AH Battery and Charger
Model: #RY120352K
Connect to a garden hose or use the 20' siphon to pull water from a bucket or nearby water source
Delivers 320 PSI
Easily clean off your outdoor furniture, windows, boats, campers, and other motor vehicles
+16
Portable power for on-the-go cleaning
Features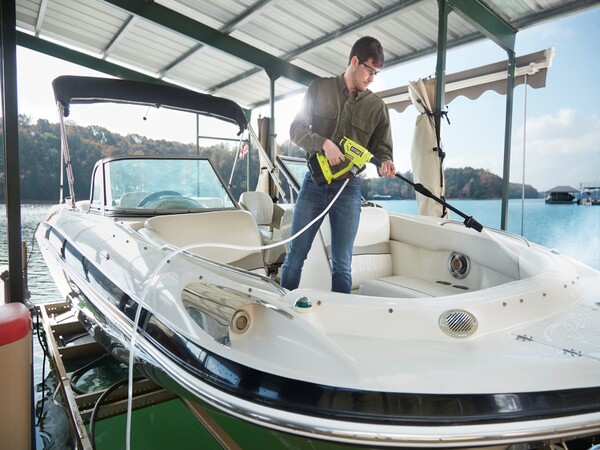 Delivers 320 PSI
For cleaning windows, outdoor furniture, boats, campers, and motor vehicles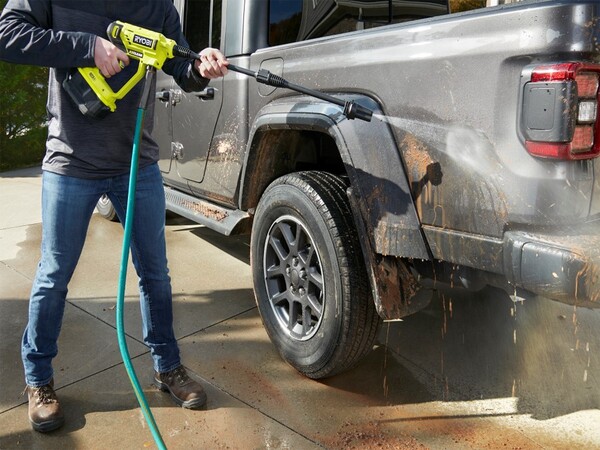 3-in-1 Interchangeable Nozzle (Turbo, 15°, and Rinse)
For versatile cleaning options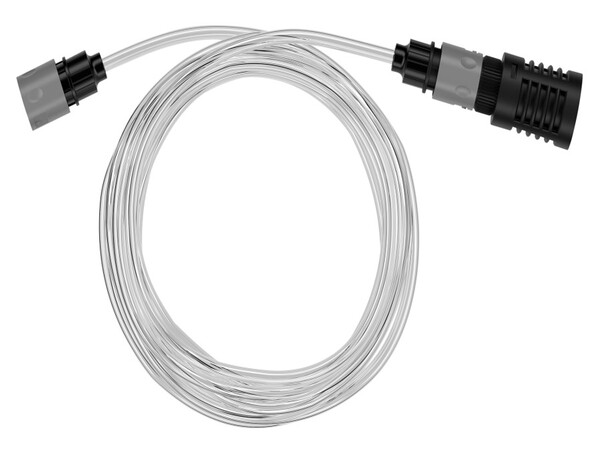 20' Siphon Hose
Pulls water from a bucket or any nearby freshwater source
Water-Resistant Battery Enclosure
For added protection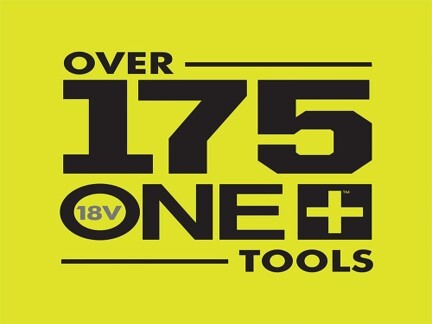 System Compatibility
Over 175 ONE+™ Tools – All work with any RYOBI ONE+™ 18V battery
Specifications
Dimensions
Battery

18V ONE+™ 4.0 Ah Battery

Motor

4 Amp

PSI

320

Flow Rate

1.2 GPM

Suction Hose Length

20'

Weight

8 lbs.

Warranty

3 Year
Includes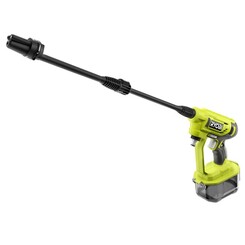 18V ONE+™ 320 PSI EZClean Power Cleaner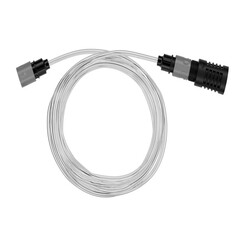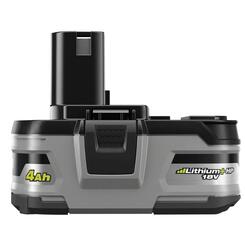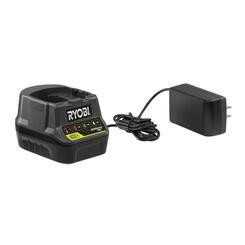 [#<ProductFeature id: 2888, title: nil, content: "18V ONE+™ 320 PSI EZClean Power Cleaner", photo: "21610b6d-2c9d-4286-bb6d-d442adda5870.jpg", created_at: "2020-09-09 17:36:50", updated_at: "2020-10-15 18:51:59", product_id: 1348, sort: 0, enhanced_type: "included_item", enhanced_group: nil, enhanced_icon: nil>, #<ProductFeature id: 2889, title: nil, content: "Siphon Hose", photo: "265e19df-3ba3-4783-849f-f098c1e00c87.jpg", created_at: "2020-09-09 17:36:51", updated_at: "2020-09-16 03:19:05", product_id: 1348, sort: 1, enhanced_type: "included_item", enhanced_group: nil, enhanced_icon: nil>, #<ProductFeature id: 2890, title: nil, content: "18V ONE+™ 4.0 Ah Battery", photo: "d0bc3bde-851f-4076-82b1-8945ae2e0cc1.jpg", created_at: "2020-09-09 17:36:52", updated_at: "2020-09-09 17:36:52", product_id: 1348, sort: 2, enhanced_type: "included_item", enhanced_group: nil, enhanced_icon: nil>, #<ProductFeature id: 2891, title: nil, content: "18V ONE+™ Charger", photo: "ba3f07eb-7df6-4ef8-a4d1-735ea078a104.jpg", created_at: "2020-09-09 17:36:55", updated_at: "2020-09-09 17:36:55", product_id: 1348, sort: 3, enhanced_type: "included_item", enhanced_group: nil, enhanced_icon: nil>]
Reviews
18V ONE+ 320 PSI EZClean Power Cleaner with 4.0AH Battery and Charger
18V ONE+ 320 PSI EZClean Power Cleaner with 4.0AH Battery and Charger
is rated out of
5
by
120
.
Rated

4

out of

5
by
jen865
from
Easier than the gas powered one
I used this for the first time this weekend to pressure was my deck. It was so easy to use and did a great job for being battery powered. It,of course, does not have as much power as the gas powered pressure washer. It is heavier than I expected and the trigger to make it work makes your hand tired after a short time of use. It would be much better if the trigger was more like a gas powered pressure washer instead of like a drill. It was a bit awkward to use on the handrails due to the heaviness of the tool and the length of the nozzle. Overall quite impressed with this tool and would recommend it for small jobs around the house!
Date published: 2020-09-07
Rated

5

out of

5
by
mikgen05
from
Convenient and easy use
I had bought this item recently and so far the power washer has been able to clean simple jobs. This tool is very convenient for cleaning up and grim and dirt build up on most surfaces compared to multiple competitors that I have seen. The 3 in 1 nozzle is perfect to use when adjusting the variation of power and water that is being excreted. I was able to spray and clean the stubborn dirt build up in my garage that has been there for years. The hose that comes with this tool is very flexible and lightweight, perfect to carry and work with. This tool is also very good in terms of washing high or hard to reach places around houses, gardens, vehicles, and etc.
Date published: 2020-08-20
Rated

5

out of

5
by
bushk_24
from
Does its job well, very convenient and easy to use
Had been looking at these and the Worx competitor, and got one with the Ryobi battery + tool deal. So far we have enjoyed it very much as it is easy to connect and use with very little effort. Blasted some shingle stains off of the brick with no problem. Obviously this is not a full power pressure washer but it is perfect for some things We have used it quite a bit at the lake to clean the dock without splintering the wood. The connected siphon is perfect for the boat and the dock. It would be great if there were some attachments for adding soap, or other sprays eventually, but it is perfect for its uses.
Date published: 2020-06-29
Rated

5

out of

5
by
apaulable
from
I never knew I needed this but works GREAT!
I picked this up so I could move around my sailboat without a hose attached and keep her clean. In the week I've had it I've also freshened up the bathroom tile and used it at my local skatepark for graffiti abatement (not enough power to expect to remove graffiti on it's own, but after a scrubbing of graffiti remover this thing works great to clean up the area and help with the process since we don't have hoses there). Exactly as described, about 3-5X the strength of a regular garden hose, about the same as what you'd expect at a car wash. Perfect to shoot off some mildew or a quick cleaning, the selling point really is portability... this little guy will be coming with for mountain bike adventures, after a long kayak trip, etc. Just need to add a 5 gallon bucket.
Date published: 2020-06-17
Rated

4

out of

5
by
Imran mehdi
from
Usefull where garden hose is not accessible
It is very handy where your garden is not accesable . Have water in any container and wash whatever you want . You can use it with garden hose also but i do not see any reason to use it with garden hose . If your outdoor fauset is located before water pressure regulator it should have 80+ psig and you can use the smal orifice nozzle and get same result. In my opinion there is no use at home where you have water available with garden hose. But if you have pressure problem with city water or hose can not reach places then with water container this thing is great. I bought one and may have use for it outdoors.
Date published: 2020-06-24
Rated

5

out of

5
by
KgBurns
from
A great little "power washer"
So far I haven't had a need to use the siphon hose, so I can't comment on that aspect, but the power cleaner itself is a little wonder! Just perfect for washing down the RV since they don't recommend using high pressure washers on the siding. Plenty of pressure and the three different spray patterns gives it a lot of flexibility for different situations. Absolutely perfect for trucks and cars, just hook the hose and walk around the vehicle - you're done. Just wish this little item was introduced a lot sooner
Date published: 2020-07-23
Rated

1

out of

5
by
Rick00100
from
Disappointed
I own multiple Ryobi tools and have been satisisfied with them all, until now. Purchased the hand held power cleaner thinking I could do some smaller tasks and avoid dragging out my pressure washer. First, no matter how many times I connected and reconnected the water supply to the unit it leaked at the fitting. I don't know if that affected the amount of pressure I could get when water passed through the unit but the pressure was dismal. On the turbo setting the water pressure was about the same as a garden hose with no sprayer attached. I could get more pressure using my thumb on the end of the hose than this thing puts out. The other settings? We won't even go there... Very disappointed.
Date published: 2021-05-25
Rated

5

out of

5
by
MVPjohnnyB
from
Amazing Ryobi Product!!
I have been searching endlessly for this Ryobi EZ clean cordless power cleaner. For 320 PSI it's the perfect outdoor tool a DIYer or average homeowner can use for a variety of lower water pressure cleaning. It's not a water pressure, think of it more as a strong (5x stronger) light weight Ryobi garden hose. For 320 it's perfect for low maintenance cleaning. I put mine to the test on my brick wall just to see how much of the 320 psi I am actually getting pushed through this unique tool. To my surprise and with 3 different settings to use, this it's strong enough to take algae of a brick home (without causing any damage like some pressure washers) and can clean a patio floor very easily! Quick tip that may seem obvious, for a stronger psi when needed while using this tool just set your 3 in 1 nozzle closure to your aimed target if you don't mind getting a tad wet. The battery is very safely stored in the water tight concealed cover so no worries at all about getting this tool wet. Remember this is your water hose on steroids! Can't wait to clean my car and rims next with this beauty!
Date published: 2020-07-16