18V ONE+™ 8" Pole Saw
Model: #P4360BTL
The RYOBI 18V ONE+™ 8" Pole Saw offers the perfect solution for pruning hard-to-reach limbs and branches. Powered by the 18V ONE+™ lithium-ion battery, this pruner extends up to 9.5 ft. to help you reach some of your tallest trimming areas easily and safely. Featuring an automatic oiler for smooth operation, the in-line motor housing also allows you to prune in tight spaces. The 18V ONE+™ 8" Pole Saw is backed by a RYOBI 3-Year Limited Warranty
Features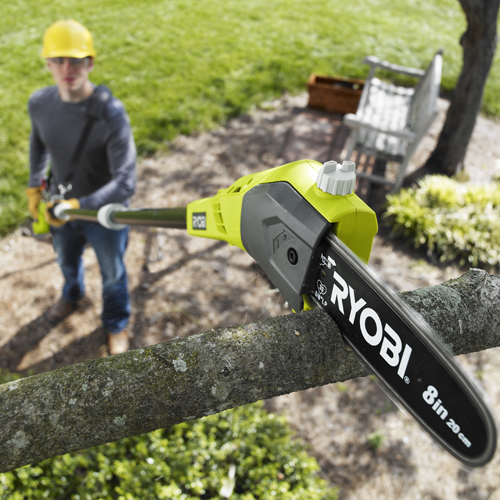 Extends up to 9.5' with extension pole for hard-to-reach areas
Automatic Oiler for extended chain life
8" Bar & Chain is ideal for light limbing
In-Line Motor Design for precision pruning
Angled Cutting Head for more control
Specifications
Bar & Chain Size: 8"
Chain Oiler: Automatic
Throttle: Variable Speed
Replacement Chain: Y33 .043"
Length: 6.5' - 9.5'
Weight: 6.6 lbs.
Warranty: 3-Year Limited
Includes
18V ONE+™ 8" Pole Saw
Scabbard
Hex Key
Extension Pole
Shoulder Harness
Operator's Manual
Reviews
18V ONE+™ 8" Pole Saw
18V ONE+ 8 in. Pole Saw
is rated out of
5
by
595
.
Rated

5

out of

5
by
Myoldkyhomeplace
from
I love this thing
I have 3 acres of heavily wooded property and was able to do a lot of work in very little time the day I got it. My dad has some trees that he is growing commercially but is growing older in age. I told him to take it while I was out of town for a couple of weeks and he got a whole lot of work out of it. It was much safer and more efficient than what he had been doing before which made my mom much happier. I'm now in the business of trying to find another deal onthis pole saw so that I can get one again as my dad now has the other one permanently. The 1.5 hour battery does fine for me but he was soon looking for a second battery.
Date published: 2020-07-26
Rated

5

out of

5
by
BrandonKlassen
from
Best Pole Saw I Have Used
I purchased the Ryobi pole saw from Home Depot. It is a very fair price. I have many pine trees around my house in need of some grooming. This removed the lowest branches no problem. I found this pole saw works bests with the 4ah Lithium+ batteries, they lasted longer than expected, where as the regular lithium 1.5ah is not the way to go as they did not last long at all. The chain oiling system also works very well and keeps the chain lubricated which will help prevent wear on the bar and chain for a long time. I have a lot of Ryobi products and I find they're all you need for around the house for any job. I look Forward to getting more Ryobi tools.
Date published: 2021-03-27
Rated

4

out of

5
by
HankC
from
battery life is really impressive (as all Ryobi pr
After buying this I waited for a lanscape profssional to try it out for me and see what her thoughts were. She and I were both impressed. So far the tool has done the job and it has great battery stamina for cutting away brush and plants. Only downside I see so far is that it went through some bar and chain oil pretty quickly, AND there on the side the black plate that houses the chain at the "drive point gear" of the tool must be claaned after every use. One must take off the bolt and clean out the area around the chain and the drive gear and then make sure that the chain is tightened enough. Then screw the plate back on.
Date published: 2020-01-07
Rated

5

out of

5
by
Wind Dancer
from
I bought this battery powered model over the power cord one as I have other Ryobi tools, batteries and chargers. This model also comes with a shoulder harness and variable speed trigger, both of which added to the safety and easier use of the saw. I used a 4AH battery and after cutting two truck loads of tree limbs (including several (4 & 6 inch) branches the battery was still over 50% charged. It is easy to assemble and take a part for cleaning and exceeded my expectations in all areas. As with any chain saw it is important to clean the tool after each use and empty the oil reservoir for storage. I can highly recommend this tool..
Date published: 2020-09-28
Rated

4

out of

5
by
JWCottrell
from
Made a tough job easier
After a recent storm we had 4 trees with broken limbs that needed trimmed up. I started the job with a ladder and a bow saw. That got old fast. Next I used a manual pole saw and my neck and shoulders were burning. I knew there had to be something better so I looked online and found the Ryobi 18v pole saw and couldn't believe the price. I ran straight to Home Depot, bought it and came back to finished the job in less than half the time. The price and convenience was a great find and because of the success I had with the pole saw I am looking into other Ryobi 18v products to add to my tool shed.
Date published: 2020-08-02
Rated

5

out of

5
by
Luke12
from
One of the best buys I've ever made
I bought my reconditioned 18V Ryobi pole saw I needed it for a small trimming job, and thought it probably wouldn't have enough power to do any serious work. I was really wrong! My original project involved trimming about a dozen 2 - 4 inch limbs about 10 - 16 feet off the ground. After I finished this job, a neighbor had a large limb fall on a car during a storm. I used the pole saw to trim off all the small branches - especially near the car. I now use it all the time to clear off branches up to 6 inches before I cut logs with my gas chainsaw. My 18v 4.0 Ah batteries last a long time.
Date published: 2020-07-01
Rated

5

out of

5
by
thegilley
from
I am very pleased with this so far
I just bought this on Saturday, right before Father's day, so I could tackle what could be a rather dangerous project of a fallen tree right behind my house that I am hoping to get to in the new few weeks. However, I did take this over to my mom's to test out on some low hanging branches in the driveway, and this product worked really well. It was easy to set up, just as easy to use, and very quiet as compared to the gas powered chainsaws I have used in the past. This cut through those branches effortlessly, and I am sure it will help me take care of the tree behind my house much more safely than it would have without it. Now just waiting for the 12 inch chainsaw I ordered to come.
Date published: 2020-06-22
Rated

4

out of

5
by
glenintenn
from
Works great, excellent cutting, cheaply made
Had this 6 months. Works great but I feel like I have to be very gentle with it -- moreso than other power tools. the pole is very cheaply made and the saw blade is quite lightly mounted into the plastic head. for the price, it saved me the price of a rental of a hardier device so with a few more uses it may be a break even from that perspective. Works especially well on privet and autumn olive which has taken over a large section of our lot... very handy for reaching under the bush and cutting at the ground or cutting all the odd angle branches to then burn in one large stack.
Date published: 2020-04-24