+10
18V ONE+™ LITHIUM+™ 10" Chain Saw with 1.5Ah Battery & Charger
Model: #P547
10" Bar & chain is ideal for prunning & light limbing
2X faster cutting than previous model
Over 175 ONE+ Tools – All work with any RYOBI ONE+ 18V battery
+10
Ideal for pruning and light limbing trees and bushes around the home
Features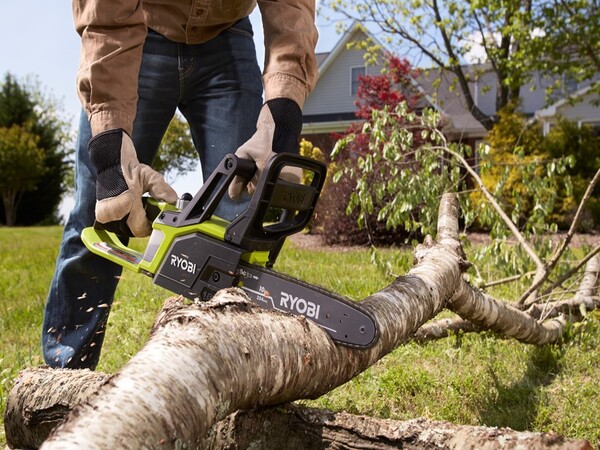 2X Faster Cutting
Than previous model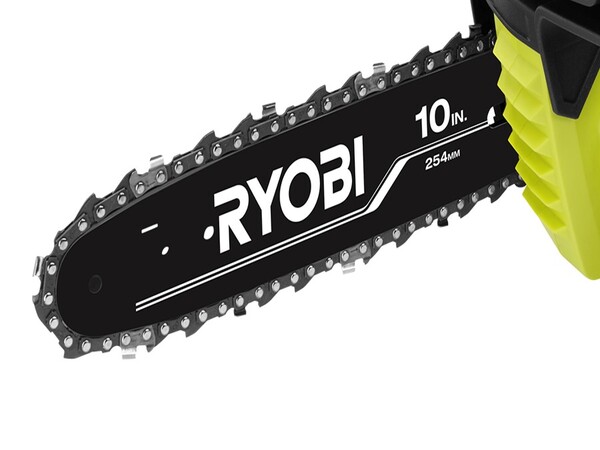 10" Bar & Chain
Ideal for pruning & light limbing
Push-Button Oiler
For easy chain lubrication and longer chain life
On-Board Tool Storage
For convenience and quick bar & chain adjustments
Specifications
Dimensions
Battery

18V ONE+™ 1.5 Ah Battery

Bar & Chain Size

10 in.

Chain Oiler

Push-Button Lubricator

Maximum Cutting Diameter

8"

Throttle

Variable Speed

Replacement Chain

Y40 .043"

Weight

6.5 lb.

Warranty

3 Year
Includes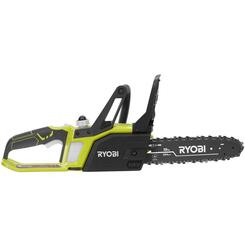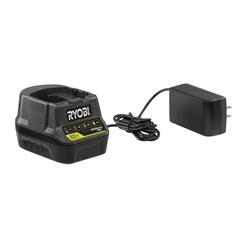 [#<ProductFeature id: 2755, title: nil, content: "18V ONE+™ 10\" Chain Saw", photo: "2e2d95cf-2f35-46ab-ad3b-3c9c6cd110bb.jpg", created_at: "2020-09-08 19:16:16", updated_at: "2020-09-08 19:19:27", product_id: 771, sort: 0, enhanced_type: "included_item", enhanced_group: nil, enhanced_icon: nil>, #<ProductFeature id: 2756, title: nil, content: "18V ONE+™ 1.5 Ah Battery", photo: "ec85af4f-6892-46c0-9f47-8c9adde49034.jpg", created_at: "2020-09-08 19:16:17", updated_at: "2020-09-08 19:16:17", product_id: 771, sort: 1, enhanced_type: "included_item", enhanced_group: nil, enhanced_icon: nil>, #<ProductFeature id: 2757, title: nil, content: "18V ONE+™ Charger", photo: "48d9f6e0-704d-4aa7-8245-bcbd9044092b.jpg", created_at: "2020-09-08 19:16:20", updated_at: "2020-09-08 19:16:20", product_id: 771, sort: 2, enhanced_type: "included_item", enhanced_group: nil, enhanced_icon: nil>]
Reviews
18V ONE+™ LITHIUM+™ 10" Chain Saw with 1.5Ah Battery & Charger
18V ONE+ LITHIUM+ 10" Chain Saw with 1.5Ah Battery & Charger
is rated out of
5
by
688
.
Rated

5

out of

5
by
Phipps
from
OMG
In 2000 at a home depot in Denver I bought my first set of Ryobi. Every item works today but I have to say I have used and abused my 18 volt chainsaw. It still works to this day however Hurricane Harvey has toppled trees to big for it to handle so I upgraded to a Ryobi gas powered. I let my son cut with the 18 Vito so she does not feel abandoned. Words can not express enough how proud I am to own over 20 Ryobi Tools I have away all my Dewalt and replaced them with Ryobi. Thank You and God Bless truly a great product. Hopefully God has some stored away for me in heaven....
Date published: 2017-09-01
Rated

5

out of

5
by
kkomernik
from
Love This Little Chainsaw
I bought this chainsaw to replace an old Remington corded electric chainsaw that the switch had broken on and that I used for fire mitigation as part of the Fire Wise program that my development participates in. Not only am I no longer constrained by a cord and able to clear a much bigger area, but the life of the battery matches my energy level. When I'm ready for a break, the battery needs to be recharged, In fact, it sometimes outlasts me. The chain cuts through deadwood like butter (hard butter) and through greenwood like soft butter. I'm looking forward to purchasing more ONE+ tools and going cord-free!
Date published: 2020-08-29
Rated

3

out of

5
by
Debbi D
from
Light weight saw
I have only used this one day - I did not expect too much power, and that is exactly what I got. It is fairly light weight - I love the fact that it is electric start (battery power). I can no longer pull start a gas powered saw, and this was bought mainly for emergency use, and to take camping with us. I have only trimmed off small limbs and cut down small trees (~3 inches diameter max) thus far, and felt that it needed more power. Perhaps if it gets used on a more stable environment such as a log/branch on the ground I might find it to perform a bit better. Wobbly branches and trees makes it hard to get a good bite into the wood.
Date published: 2019-07-29
Rated

5

out of

5
by
Tamaracian
from
EXCELLENT LIGHT-WEIGHT CORDLESS SAW
I purchased this Cordless Chain Saw to replace a 14" Gas Chain Saw. I have 7 large oak trees that needed to be shaped and thinned-out that required me to use an 8' step ladder and 16' extension ladder, and also climb up into the tree. Using a Gas Chain Saw while up on a ladder or while in a tree is both difficult and dangerous. The Ryobi, being battery operated and lighter in weight, made it much easier and safer to perform the task. I never had an issue cutting up to 7" diameter Live Oak branches; the chain needed to be tensioned only once, and I did not have to recharge the Battery! You do need to watch the Cutting Oil level as the Oil will drip out if the Saw is held downward for any length of time. Another advantage is that this Saw is part of Ryobi's 18V Lithium Battery Line and I already have several battery packs so the included Pack just adds to the stable of available energy for my other Ryobi cordless equipment.
Date published: 2016-04-29
Rated

3

out of

5
by
Saewoo
from
Has real potential
Has potential to be a 5 start rating because the provided battery is not strong enough for something like a chainsaw. I could only get about 10 min of actual cutting per charge, not enough time to really get started working. However, once I put in the 4amp hour battery that came with my Ryobi weed wacker, I got about 30min of good cutting out of it, what I would expect if you purchase something like this. Does not cut as fast as a gas saw, but if you only find yourself cutting limbs and small trees on occasion, it's sufficient to do the job and you don't have to deal with a having a gas mix or the noise.
Date published: 2018-09-15
Rated

4

out of

5
by
SSGFri
from
Not a bad product
I had a tree branch and some dead trunk break away from the main trunk in my yard and needed to cut it down. I've been looking at purchasing Ryobi 18v power tools for a few months now. And when this happened it gave me the excuse to by the brand I've been wanting to invest in. I bought the 10in 18v chainsaw. It cuts great, it's light weight, and the battery charges quickly. The only problem I found was that the time frame of operation was not to my liking. I got no more than 20 minutes of use before I had to charge it again. This could be that I did not charge over night before I 1st used it. I still like the chainsaw. It works great minus the battery issue. I would still consider buying this... just make sure not to get to excited befote you use it and make sure you charge it over night before 1st time use.
Date published: 2016-07-12
Rated

5

out of

5
by
chainsaw momma
from
Great size, great durability
I bought this 10" chainsaw just for me. I am a retired older woman and wanted something that I alone could manage. I happened to buy this just 3 days before a tornado came thru and broke a 60' pine tree in the front yard. I took my new chainsaw and my 2 grandkids out and we limbed all but the top 10' before the battery died. It was light weight and responded well. I was worried because I am left handed and it seems that all chainsaws want to be right handed. I also instructed my 10 year old grandson how to cut off one limb safely. I love my new chainsaw and look forward to using it for many years. JUST PERFECT....I have told my women about it.
Date published: 2017-04-25
Rated

5

out of

5
by
crudnick
from
amazing
The life is amazing, i never in a million years thought i could cut a whole tree up on one compact battery charge.
Date published: 2016-04-30