+6
2 Cycle 20" Chain Saw
Model: #RY5020
+6
With its powerful 50cc engine, you can trust the RYOBI 20 in. 2-Cycle Chain Saw to get the job done fast. This saw features an anti-vibe handle to provide added stability and comfort while in use. As an additional safeguard, it has an inertia-activated chain brake to stop the chain automatically and a SAFE-T-TIP bar to protect against rotational kickback. Servicing is made easy by the tool-less air filter cover and side-access chain tensioner. The adjustable automatic oiler will ensure a longer bar and chain life. With its durable carrying case, transport and off-season storage are simple and convenient. The smooth operation and 3-year warranty make the RYOBI 20 in. 2-Cycle Chainsaw the ideal choice for tackling a variety of cutting jobs.
Features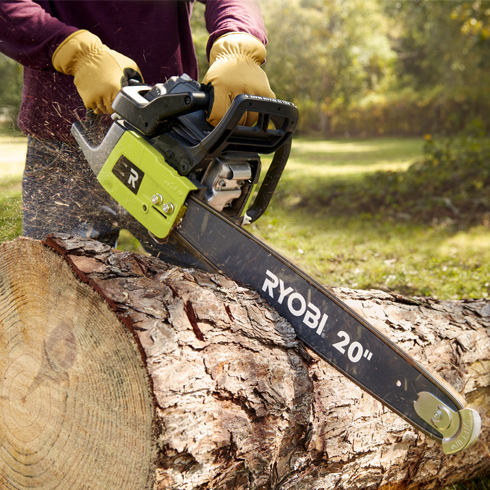 Powerful 50cc Engine for Fast Cutting
Anti-vibration Handle for Increased User Comfort
Adjustable Automatic Oiler for Longer Bar and Chain Life
Tool-less Air Filter Cover for Easy Service
Side Access Chain Tensioner for Easy Adjustment
Inertia-Activated Chain Brake Stops Chain Automatically
Safe-T-Tip Protects Against Rotational Kickback
Carrying Case for Easy Transport
Specifications
Engine Type: 2-Cycle
Weight: 10.7 lbs.
Engine Size: 50cc
Bar Length: 20"
Chain Pitch: 3/8" Low Profile
Chain Gauge: .050"
Drive Links: 62
Includes
2 Cycle 20 in. Chain Saw
2 Cycle Engine Lubricant
Bar & Chain Oil
Scrench
Scabbard
Carrying Case
Operator's Manual
Reviews
2 Cycle 20" Chain Saw
2 Cycle 20" Chain Saw
is rated out of
5
by
83
.
Rated

4

out of

5
by
peter398
from
Seems to be a solid purchase, but possible issues
I bought this about a month ago. I really struggled to get it started the first time, even called in for help (on a weekend, no support), but it finally turned over and worked basically well the first day. However, I did notice that after about a half-hour of on-again, off-again use, I could not get it to run at full throttle without backing off the trigger a little. The second use was much shorter, and there were no issues. Finally, I did notice that there was oil leaking after storing following the first use. Not sure what's going on, but it might be chain oil leaking from the cutting blade area. I need to monitor this to see if it's a significant issue.
Date published: 2020-07-04
Rated

4

out of

5
by
Nunzio
from
Great saw for homeowners
I was given a large load of extremely hard hickory wood which my smaller saw couldn't handle. I thought this Ryobi 20" Chainsaw with its 50cc engine might work. It worked good. More than enough power to handle the hard wood. I can't give it 5 stars because the factory chain included with it was useless. It failed after only two cuts. The Oregon chain I purchased with it was a perfect match with the Chainsaw. Again, the chainsaw had plenty of power, wasn't too heavy, and the chain catcher built into the saw worked great when the factory chain let loose. I would highly recommend the Ryobi chainsaw for the average homeowner with normal firewood to cut or trees to trim on their property.
Date published: 2019-06-21
Rated

5

out of

5
by
retrafwo
from
Powerful but lightweight
Bought this a month ago as I had been given some oak trees to cut up for firewood. I knew that my old 16 inch Poulan would not cut it. Yes read lots of reviews on lots of saws. Had used Husqvarna and Stihl as a volunteer firefighter but couldn't justify the expense. Took the Ryobi out of the box, added fuel and oil, adjusted the chain, fired it up and was immediately impressed with how the Ryobi cut through those 24" diameter green wet oak trunks. Cut nearly 2 cords without a hitch. Even more importantly with the lighter weight of the Ryobi my arms, shoulders and back didn't feel as though I'd been stretched on a rack!!
Date published: 2020-12-09
Rated

3

out of

5
by
Joe R from NY
from
Awesome power, but not terribly durable
I bought this to cut up some downed trees after a hurricane. I love the power. The anti-vibration design is very comfortable, and the engine runs smoothly. However, after about four tanks of gas over approximately ten months, the clutch is making a loud pinging sound that can be heard even over the engine, and the chain brake makes it worse. I always keep the saw oiled and the tension properly adjusted, so I don't know what's wrong. I put another tank of gas through it with the pinging clutch and it still seems to be running fine; it only pings when idling, with out without the chain brake engaged. Now I have the joy of trying to figure out how to get this thing serviced.
Date published: 2021-04-26
Rated

5

out of

5
by
JB_ATL
from
Powerful and Easy to Use
I bought this 2 months ago after a random Chinese brand from Amazon died quickly. This one is awesome. I've done several hours of work, probably on the 4th tank now and this thing has no issues. While I was concerned 50cc wouldn't be quite strong enough with a 20in bar, I'd say the difference between that and the 62cc I had was about 5-10 seconds on a 30" tree - so who cares. I don't love the little guard, but it's easy enough to come off, and I picked up an Oregon chain to get a little more bite. Overall, easy to recommend.
Date published: 2020-11-25
Rated

4

out of

5
by
mom0six
from
Powerful and easy to use!
Bought this the other day. Works well! It has the power we needed for large logs at an affordable price! ONLY COMPLAINT...the blade was so dull when it arrived. We expected to use it as soon as it arrived, and that was not possible! We had to buy another blade, because we didn't know how to sharpen the blade it came with...disappointed about that, but other than that, we feel it was a great purchase. Had someone show us how to sharpen the blade and now we have to chains to alternate.
Date published: 2019-09-28
Rated

5

out of

5
by
Surf411
from
Great saw for the money
Simple review: buy this saw if you don't use it for work. Best homeowner saw - period!
Date published: 2018-12-25
Rated

5

out of

5
by
Elreyrey
from
Very Happy
This saw is a Tiger, with power to spare. I especially like the chain tension screw being on the side instead of next to the chain as my other saws. This makes it much easier to make adjustments. Starting is easy for a two cycle engine. My only complaint, if it's really a complaint is that the saw comes with a storage/carry case. I neither need, nor want, the case which I'm sure added to the saw's price. However, there is a lot of saw for it's price.
Date published: 2020-05-21