+2
2000 PSI Electric Pressure Washer
Model: #RY141900
+2
The RYOBI 2000-PSI Pressure Washer is engineered to handle even your toughest jobs. With a powerful 13-Amp Electric Motor and Pressure+ Technology, this RYOBI Pressure Washer delivers 2000-PSI of force for quick cleaning of driveways, decks, windows, and other areas around the house. Featuring a durable roll-cage frame design, this pressure washer is designed for easy transport. The removable detergent tank offers easy soap application and hassle-free clean-up. For added convenience, the RYOBI 2000-PSI Pressure Washer is equipped with on-board hose reel and accessory storage. This unit also includes a bonus Turbo Nozzle that delivers up to 50% more cleaning power. The RYOBI 2000-PSI Electric Pressure Washer is backed with the RYOBI 3-year limited warranty and is guaranteed to deliver results for years to come.
Features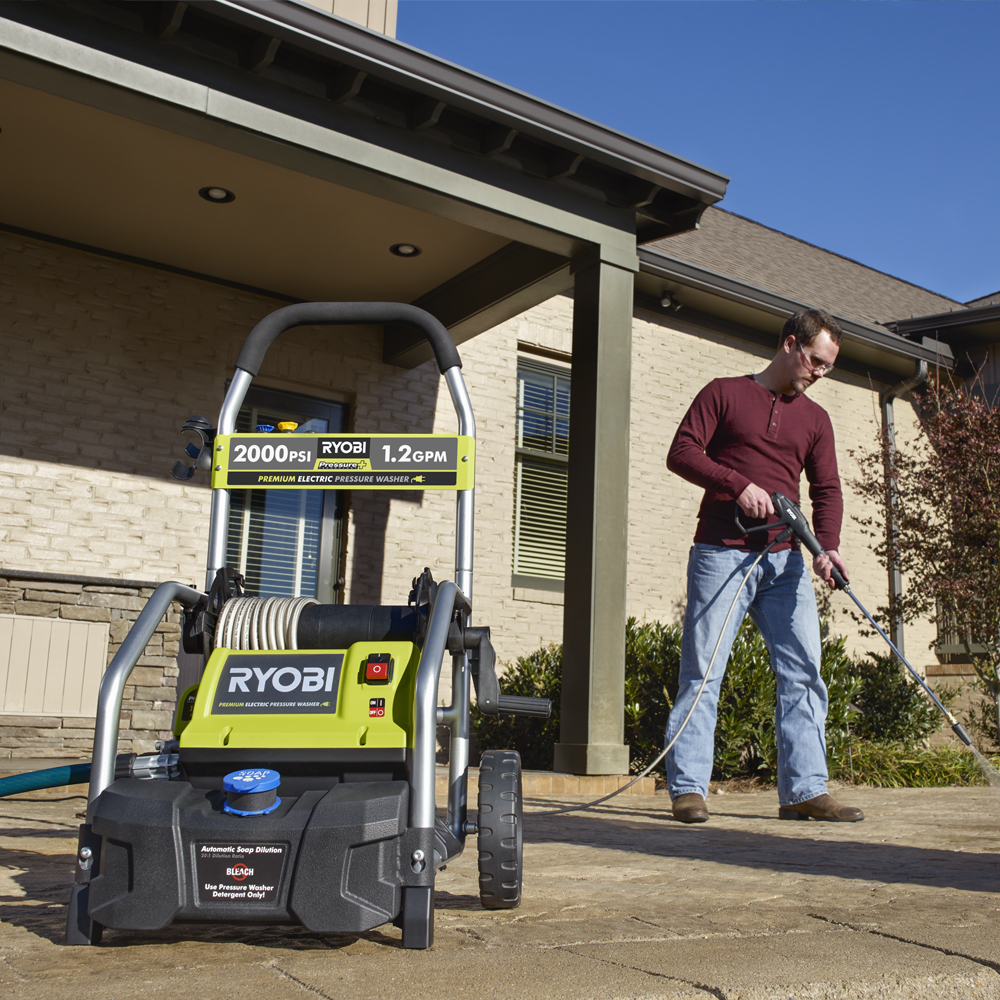 2000-PSI
1.2-GPM For Efficient Cleaning Of Residential Areas
Powerful 13-Amp Electric Motor
Pressure+ Technology Delivers Maximum Cleaning Power
Hose Reel For User Convenience
Rugged Roll-cage Frame Design Protects The Motor Housing And Stays Upright; No Tipping
Removable Detergent Tank For Easy Soap Application
Professional Metal Spray Wand With Quick-Connect Coupler For Easy Nozzle Changes
On-board Accessory Storage For User Convenience
Includes 3 Quick-connect Nozzles (15°, Soap, and Turbo) For Cleaning A Variety Of Surfaces
3 Year Limited Warranty
Reviews
2000 PSI Electric Pressure Washer
2000 PSI Electric Pressure Washer
is rated out of
5
by
4818
.
Rated

1

out of

5
by
Greg85
from
Started out great and then went to not great
I had received this a gift a year or 2 ago and really only used it for small, quick projects. Today I put it to the real test and pressure washed my house. It lasted 3/4 of the way through then the washer itself would act funny stall out and then continue again. I checked all the lines and everything seemed to be ok. Shortly after that, the gun wouldn't stop spraying at full pressure, made the job dangerous to keep using it. Finally the last straw was when the gun started leaking so bad from the handle, I could no longer finish the job. Highly disappointed.
Date published: 2023-05-21
Rated

2

out of

5
by
Miche2023
from
Wish it worked! So disappointed.
Purchased brand new. Used once snd it was amazing. Went to use it again and the spray gun handle leaks so bad. Checked o-rings- everything is good. My very first spray washer and Ryobi product. I am so sad.
Date published: 2023-05-13
Rated

2

out of

5
by
SF11
from
Discontinued Parts?! What!?
I bought this two years ago and have used 5 times. The inlet broke off and in searching for a replacement I am told they discontinued not only the model but the part I need. I am so frustrated by this since I have had to cobble together a bunch of little parts that really don't work perfectly but they do. And then after fixing that, the hose burst!! I hate the idea of throwing something out so I will continue to limp along and buying parts, but I do not like that this company has made that so difficult to maintain a fairly new product. I don't think I will be purchasing this brand anymore.
Date published: 2023-04-16
Rated

1

out of

5
by
Smithers2112
from
Garbage
worked for 1 summer now the handle leaks so bad you can't even use it. checked all the seals and o rings all perfect. get on here to see it's discontinued. pretty disappointing.
Date published: 2023-04-08
Rated

2

out of

5
by
patron
from
fiasco
i bought this pressure washer last year and only used one time that it didnt work no more
Date published: 2023-01-14
Rated

2

out of

5
by
Poppa John
from
Died straight after warranty expired !!
After a bad experience with 2 Katcher products that died straight after warranty expired, we thought we would try Ryobe, Our 2000 psi pressure sprayer has been great although we use it maybe a half dozen times a year. Purchased on 11/11/2018, it was a Xmas present with 4 years warranty. Now, first time we used it since last summer and after about an hour the motor sound got quieter and died. Now it won't start. 16 days after warranty ended. Why are products engineered to die the month after warranty expires? Warranty should start on first use so not until AFTER this Xmas. Guess I'm looking for another brand. Pity as I've been telling everyone how good this sprayer has been. I'll have to go back and tell them all the sad news. :(
Date published: 2022-11-26
Rated

3

out of

5
by
JCB275
from
Ryobi 1600 Pressure Washer
Great little machine that uses a universal motor and I need motor brushes. And you cannot find a part number or anything that tells you size, part number, etc. Think this is my last Ryobi product.
Date published: 2022-10-28
Rated

2

out of

5
by
Doctor Who
from
Trouble once again
Purchased a home in November 2021 and thought a pressure would be useful in cleaning the block house before painting and cleaning concrete pads. Did a great job until the GFI won't work. Cut it off and replaced with an external unit. Now the trigger handle leaks so bad that I have no pressure. Guess I will have to purchase a replacement but wonder what is next. Will be looking for another in the future and will be reading the reviews much closer. I thought Ryobi unit when I was looking - no problem, great hand tools.
Date published: 2022-10-18
Rated

1

out of

5
by
rvk52
from
Worked great for 2 uses
It worked flawlessly for 2 uses. Just set it all up and nothing - power came on for 10 seconds and that was it - checked all breakers etc - piece of crap - up til now I have been very happy with Ryobi products - two hundred bucks down the drain.
Date published: 2022-10-18
Rated

1

out of

5
by
crunch62
from
Ryobi 141900
Bought this electric pressure washer almost 4 years ago. Machine shuts on and off using the 15 deg nozzle.. All others work okay. Can't find anything about the unloader valve for this unit as to where it is located. Pump no longer available. I've used this unit maybe at the most 6 times.
Date published: 2022-10-12