+5
2300 PSI BRUSHLESS ELECTRIC PRESSURE WASHER
Model: #RY142300
Brushless Motor technology for superior performance
Turbo Nozzle delivers 50% faster cleaning
25 ft. high pressure non-marring hose extends reach without marking surfaces
+5
Engineered to handle the toughest jobs
Features
Brushless Motor Technology
For superior performance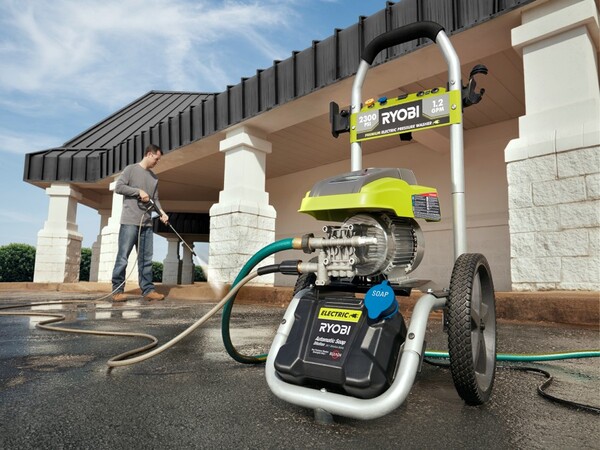 Turbo Nozzle
Delivers 50% faster cleaning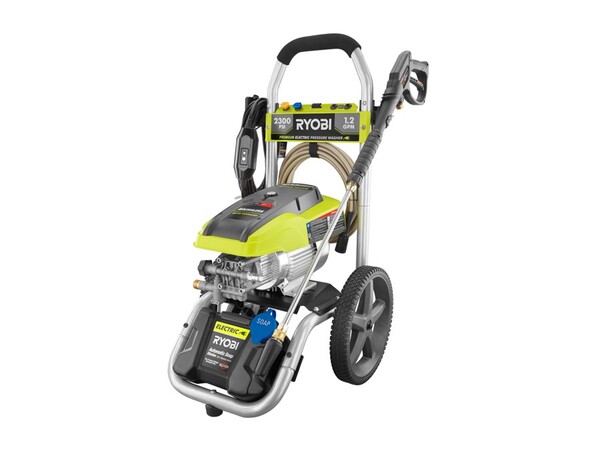 25 ft. High Pressure Non-Marring Hose
Extends reach without marking surfaces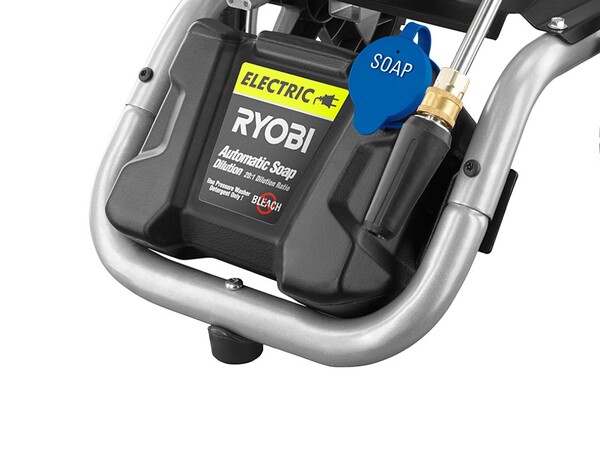 On-Board Detergent Tank
For easy soap application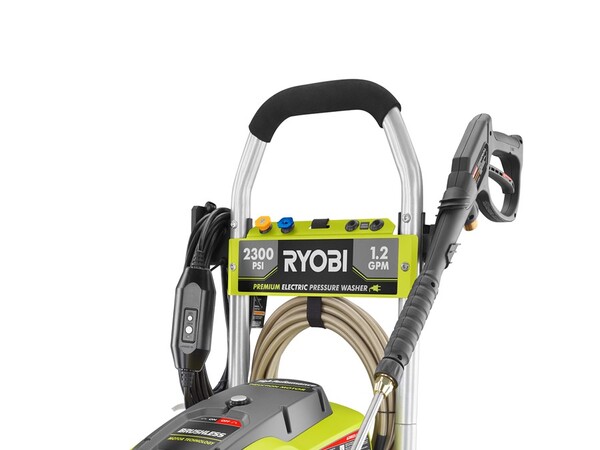 Hand-Truck Design
For durability and user convenience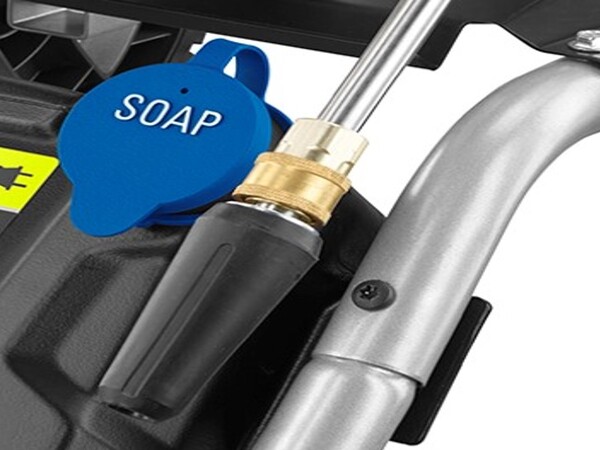 Quick-Connect Coupler
For easy nozzle changes
Specifications
Dimensions
Motor

13 Amp Brushless Motor

PSI

2300

GPM

1.2

Cord Length

35 ft. with GFCI

Hose Length

25 ft.

Pump Type

Axial-Cam with Bypass

Wheel Size

12"

Weight

49 lbs.

Warranty

3 year
Includes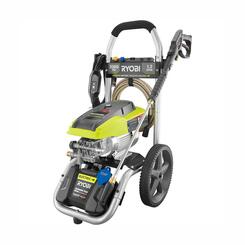 2300 PSI Brushless Electric Pressure Washer
Trigger Handle with M22 Connections
25 ft. High Pressure Hose
15 Degree Nozzle, Soap Nozzle, and Turbo Nozzle
[#<ProductFeature id: 3059, title: nil, content: "2300 PSI Brushless Electric Pressure Washer", photo: "e05554f7-ea5b-4550-888c-3b187f55521b.jpg", created_at: "2020-09-10 18:51:36", updated_at: "2020-09-10 18:52:37", product_id: 917, sort: 0, enhanced_type: "included_item", enhanced_group: nil, enhanced_icon: nil>, #<ProductFeature id: 3060, title: nil, content: "Trigger Handle with M22 Connections", photo: nil, created_at: "2020-09-10 18:51:37", updated_at: "2020-09-10 18:51:37", product_id: 917, sort: 1, enhanced_type: "included_item", enhanced_group: nil, enhanced_icon: nil>, #<ProductFeature id: 3061, title: nil, content: "Metal Spray Wand", photo: nil, created_at: "2020-09-10 18:51:37", updated_at: "2020-09-10 18:51:37", product_id: 917, sort: 2, enhanced_type: "included_item", enhanced_group: nil, enhanced_icon: nil>, #<ProductFeature id: 3062, title: nil, content: "25 ft. High Pressure Hose", photo: nil, created_at: "2020-09-10 18:51:37", updated_at: "2020-09-10 18:51:37", product_id: 917, sort: 3, enhanced_type: "included_item", enhanced_group: nil, enhanced_icon: nil>, #<ProductFeature id: 3063, title: nil, content: "15 Degree Nozzle, Soap Nozzle, and Turbo Nozzle", photo: nil, created_at: "2020-09-10 18:51:37", updated_at: "2020-09-10 18:51:37", product_id: 917, sort: 4, enhanced_type: "included_item", enhanced_group: nil, enhanced_icon: nil>, #<ProductFeature id: 3064, title: nil, content: "Operator's Manual", photo: nil, created_at: "2020-09-10 18:51:37", updated_at: "2020-09-10 18:51:37", product_id: 917, sort: 5, enhanced_type: "included_item", enhanced_group: nil, enhanced_icon: nil>]
Reviews
2300 PSI BRUSHLESS ELECTRIC PRESSURE WASHER
2300 PSI BRUSHLESS ELECTRIC PRESSURE WASHER
is rated out of
5
by
2318
.
Rated

1

out of

5
by
jeff99
from
Died after about 4 hours
Bought the 2300 about 2 years ago. It lasted about 4 hours and the motor and pump stopped powering up. sounded like it was stuck so I rapped the pump with a mallet and it worked, for about 2 more hours then died again. Have had great luck with other ryobi tools but this thing is junk.
Date published: 2023-05-23
Rated

5

out of

5
by
jt59
from
Got the job done
I bought this pressure washer this weekend when I wanted to pressure wash my newly acquired old motorhome. I tried to rent a unit, but none were available anywhere nearby, and it would have cost me close to 1/3 of the purchase price just to rent for a day. I agonized over the purchase and spent a little more than I wanted to, but spent half the day Sunday with this unit, washing almost continuously with the 15 degree tip. It was a big job and took a long time, but it produced results far beyond my expectations, with no hiccups. I was worried it might overheat or quit, but it just kept working and steadily scrubbed away 23 years of grime. Next project is the deck, and now I'm thinking of more and more jobs. Within a week or so this unit will more than surpass the value of the rentals I'd have otherwise had to engage on someone else's schedule. Bonus is it accommodates hose and cord storage while keeping a small footprint in my tiny garage. Also, the large wheels make moving it around and over curbs a breeze. Great purchase.
Date published: 2023-05-23
Rated

5

out of

5
by
Beachdave
from
Great for all my pressure washing tasks
Purchased today and spent all day cleaning. Concrete, exterior stucco, patio furniture, bikes and a car. Worked great in all tasks. Previously had a smaller / lower psi from another manufacturer - what a difference. I filled the reviews on wire cutter and I'm glad I did.
Date published: 2023-05-22
Rated

5

out of

5
by
Rosie9482
from
Awesome pressure washer
Just purchased the Ryobi 2300 pressure washer! Boy was I amazed. I've never used one before. My neighbor helped me put it together and it's so easy to use. Instead of spending $600 to have a company come out and do it for me I now have my own for less than half the price and I can use it any time it's needed. It got all the dirt and gunk off of my back stairs and patio!! Glad my sister talked me into getting one!!
Date published: 2023-05-21
Rated

4

out of

5
by
iops212
from
Gets the job done
It's good...gets the job done. Light enough for many different uses but powerful enough to take the grime away. Worked well at close range for my siding. I would have probably gone with something a bit more powerful.
Date published: 2023-05-20
Rated

5

out of

5
by
Pauletteza
from
Great for Seniors
Easy set up. First use went well for me as a senior citizen.
Date published: 2023-05-16
Rated

5

out of

5
by
SC in NC
from
Like the Pressure washer, meh for customer service
First off, I like the pressure washer very much. It has good power and does a fine job. It's easy to move around and a long power cord so you can take it where you need to work. For that matter, I like all of my Ryobi tools and yard equipment However, I ran into a problem and wasn't thrilled with customer service (although they did come through in the end). Third time using it, the wand failed spewing water in every direction. I emailed customer support and it took them a business week to get back to me with directions to take it to a service center or ship it at my expense. Ridiculous considering how my email explained the pressure washer was fine and it was the wand that failed. Plus, this was the THIRD time I was using it. I next tried calling them but of course was on hold for 45 minutes with no answer. Eventually got someone on chat. After explaining the situation and providing my basic information the customer service agent questioned whether I had it for 90 days since the wand was a consumable and only warrantied for that. A consumable? Luckily it had only been about 5 weeks so to their credit they sent me a new want tip within a couple of days. That fixed the problem so it's all good. But, just to let anyone know, when I compared the replacement with the failed wand, I noticed it was missing the o-ring that is in the wand quick disconnect. If anyone has a similar problem, it's a standard o-ring that is easily found if you search for pressure washer quick disconnect o-rings.
Date published: 2023-05-15
Rated

5

out of

5
by
Casher
from
Pressure Sprayer was awesome
Bought it last week and used it the same day to clean the outdoor deck. It worked great and was perfect for the job.
Date published: 2023-05-15
Rated

4

out of

5
by
SteelRyder1955
from
A Few Design Flaws
Haven't used the tool yet, but I have some areas of concern. First is cord management. For the power cord, they could have easily put a lower cord bracket on the frame but didn't. It would have made winding the cord way easier. Second, there is no provision for hose storage, other than a lame piece of velcro. A few brackets on the handle would have been nice. Last, the design of the garden hose inlet tube into the pump concerns me. It seems to me that is a weak point, in that if you go to move the washer and don't notice that the hose is caught on something, it is liable to snap off. It might be an issue or not. In my view, there could have been a better design for that area. As a bonus question, what the heck is the "bungee loop" for?
Date published: 2023-05-14
Rated

3

out of

5
by
BigDru
from
Ok pressure washer
Worked great for the first 2 years. Loved it. Lost pressure mid project. Attempted to contact customer service but it was of no help. Was told nothing could be done. Will need to consider alternative
Date published: 2023-05-13