+5
2300 PSI BRUSHLESS ELECTRIC PRESSURE WASHER
Model: #RY142300
Brushless Motor technology for superior performance
Turbo Nozzle delivers 50% faster cleaning
25 ft. high pressure non-marring hose extends reach without marking surfaces
+5
Engineered to handle the toughest jobs
Features
Brushless Motor Technology
For superior performance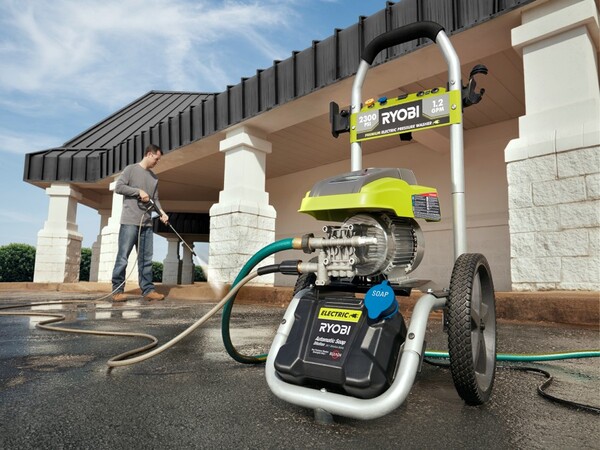 Turbo Nozzle
Delivers 50% faster cleaning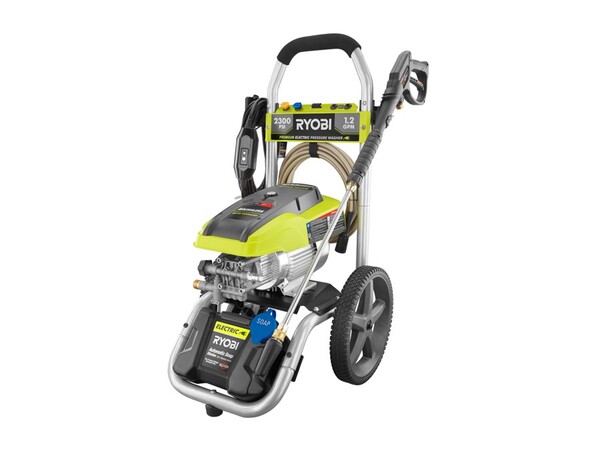 25 ft. High Pressure Non-Marring Hose
Extends reach without marking surfaces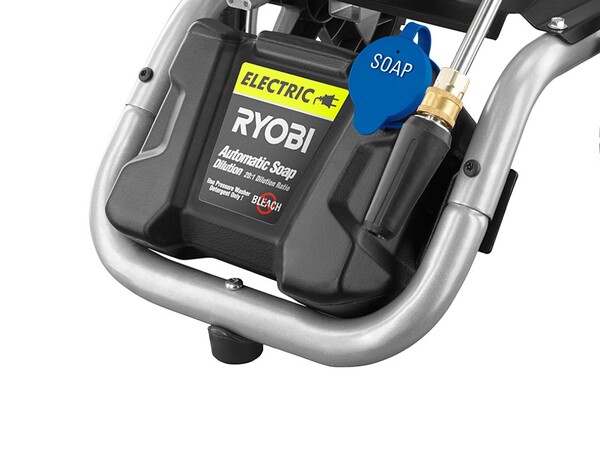 On-Board Detergent Tank
For easy soap application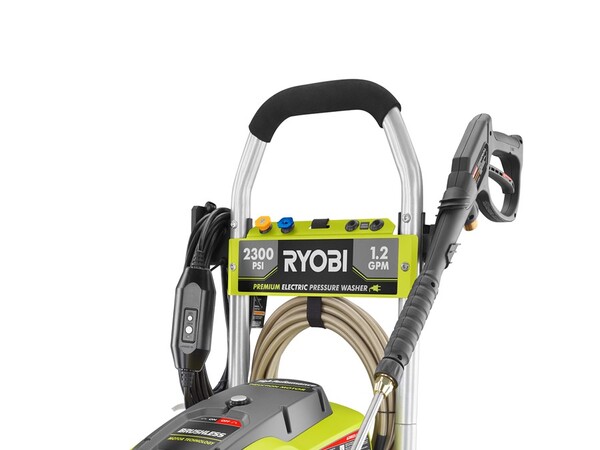 Hand-Truck Design
For durability and user convenience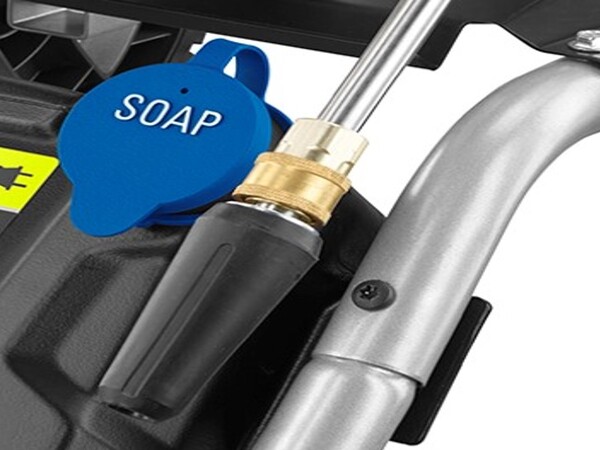 Quick-Connect Coupler
For easy nozzle changes
Specifications
Dimensions
Motor

13 Amp Brushless Motor

PSI

2300

GPM

1.2

Cord Length

35 ft. with GFCI

Hose Length

25 ft.

Pump Type

Axial-Cam with Bypass

Wheel Size

12"

Weight

49 lbs.

Warranty

3 year
Includes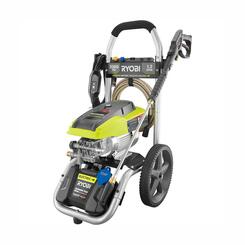 2300 PSI Brushless Electric Pressure Washer
Trigger Handle with M22 Connections
25 ft. High Pressure Hose
15 Degree Nozzle, Soap Nozzle, and Turbo Nozzle
[#<ProductFeature id: 3059, title: nil, content: "2300 PSI Brushless Electric Pressure Washer", photo: "e05554f7-ea5b-4550-888c-3b187f55521b.jpg", created_at: "2020-09-10 18:51:36", updated_at: "2020-09-10 18:52:37", product_id: 917, sort: 0, enhanced_type: "included_item", enhanced_group: nil, enhanced_icon: nil>, #<ProductFeature id: 3060, title: nil, content: "Trigger Handle with M22 Connections", photo: nil, created_at: "2020-09-10 18:51:37", updated_at: "2020-09-10 18:51:37", product_id: 917, sort: 1, enhanced_type: "included_item", enhanced_group: nil, enhanced_icon: nil>, #<ProductFeature id: 3061, title: nil, content: "Metal Spray Wand", photo: nil, created_at: "2020-09-10 18:51:37", updated_at: "2020-09-10 18:51:37", product_id: 917, sort: 2, enhanced_type: "included_item", enhanced_group: nil, enhanced_icon: nil>, #<ProductFeature id: 3062, title: nil, content: "25 ft. High Pressure Hose", photo: nil, created_at: "2020-09-10 18:51:37", updated_at: "2020-09-10 18:51:37", product_id: 917, sort: 3, enhanced_type: "included_item", enhanced_group: nil, enhanced_icon: nil>, #<ProductFeature id: 3063, title: nil, content: "15 Degree Nozzle, Soap Nozzle, and Turbo Nozzle", photo: nil, created_at: "2020-09-10 18:51:37", updated_at: "2020-09-10 18:51:37", product_id: 917, sort: 4, enhanced_type: "included_item", enhanced_group: nil, enhanced_icon: nil>, #<ProductFeature id: 3064, title: nil, content: "Operator's Manual", photo: nil, created_at: "2020-09-10 18:51:37", updated_at: "2020-09-10 18:51:37", product_id: 917, sort: 5, enhanced_type: "included_item", enhanced_group: nil, enhanced_icon: nil>]
Reviews
2300 PSI BRUSHLESS ELECTRIC PRESSURE WASHER
2300 PSI BRUSHLESS ELECTRIC PRESSURE WASHER
is rated out of
5
by
2275
.
Rated

5

out of

5
by
El_Jefe
from
Easy to use! Quality
I just bought this pressure washer and I was impress with how easy is to put together and operate it. It seems to be a good quality product, the last one I had from Ryobi lasted a long time (I use them in a car detailing operation so they get a lot of use)
Date published: 2023-02-24
Rated

5

out of

5
by
JimFromNC
from
Great product!
I bought this power washer to clean two wooden decks. It did an amazing job. Now to tackle the concrete driveway!
Date published: 2023-02-24
Rated

5

out of

5
by
pat12345
from
Pressure washer
Great product.............................................
Date published: 2023-02-22
Rated

4

out of

5
by
George1120
from
Excellent Warranty Coverage
I received this sprayer 4 days ago as a replacement for the one that failed over a year ago. I am impressed that Ryobi really stands behind their products. I am satisfied with how the product works. My only con with this product is that they no longer make the 65 degree nozzle available. Other than that, I like the availability of the patio/concrete attachment and the brush to wash cars which I will be buying.
Date published: 2023-02-21
Rated

4

out of

5
by
matty12
from
No gas!
Cleaner, easier, and seemingly comparable to gas counterparts. Easy to assemble, seems strong enough, but need to continue to test. Seems to be a constant flow of power, too - not like the gas ones that have to be adjusted. 2300 psi should be strong enough to clean pool filters (that was the idea behind this). However, I did just find out that there's some lubricant or something that's STRONGLY recommended, so gotta look into that. Also relatively compact that it will easily store in the shed. I think I'm satisfied with this purchase.
Date published: 2023-02-17
Rated

1

out of

5
by
PopGoesThePower
from
Pop goes the power button!
I purchased my Ryobi power washer a little over 2 year ago and have probably used it less than 5 times. Tonight as I was using it, I started to smell a faint 'electronics smell' and the next thing I knew I hear a loud POP and the power button landed in front of the machine. I There seems to be some type of rubber gasket around it and I COULD just shove it back in the hole and hope for the best, but this doesn't seem safe.
Date published: 2023-02-06
Rated

5

out of

5
by
DonnaMarie
from
Great buy!
What a great buy! I did my homework before I purchased this power washer and I am very happy I did. It was easy to set up and very user friendly. It is so easy to roll and the power is amazing. It's very quiet - I've never had a pressure washer that wasn't loud. It easily cleans my concrete and brick paver sidewalks and it does it with ease. I'm very happy with my purchase.
Date published: 2023-02-03
Rated

5

out of

5
by
Rickystdenis
from
Works great.
I got this for Christmas and absolutely love it! I had a Karcher before this and this one blows it away!
Date published: 2023-01-29