+7
40V 1800 Watt Power Station / 4-Port Charger
Model: #RYi1802B6
(3) 120V Outlets, (4) USB-A Ports, and (2) USB-C Ports
Pure Sine Wave Technology: Safe for Sensitive Electronics
Bluetooth Monitoring Using the GENCONTROL™ App
+7
Convenient Quiet Portable Power
Features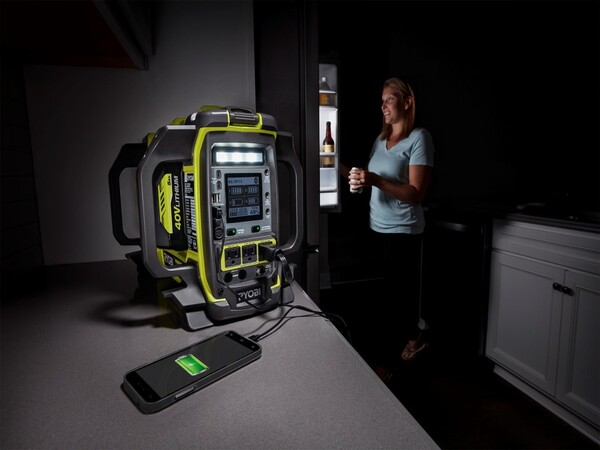 1800 Watts Max Running Power
Able to power a wide range of products from lights to a refrigerator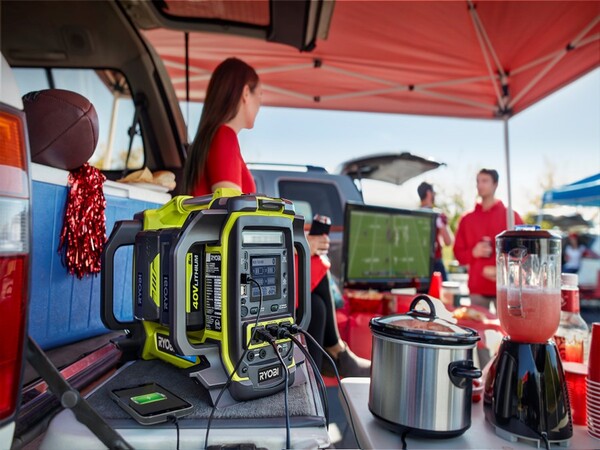 Pure Sine Wave Technology
Safe for sensitive electronics such as Laptops, Cell Phones, and LCD TVs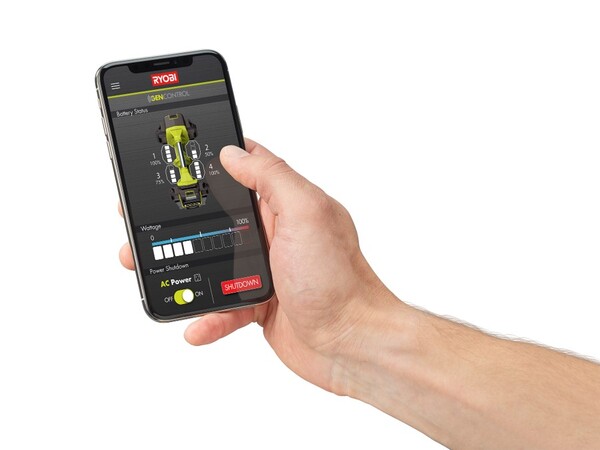 Bluetooth® Capable
Monitor up-to two inverters at the same time utilizing the GENCONTROL™ App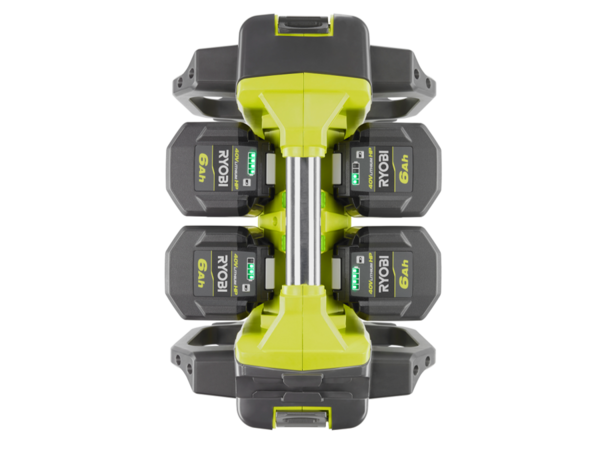 Doubles as a Super Charger
Charge up-to 4 Ryobi 40V batteries sequentially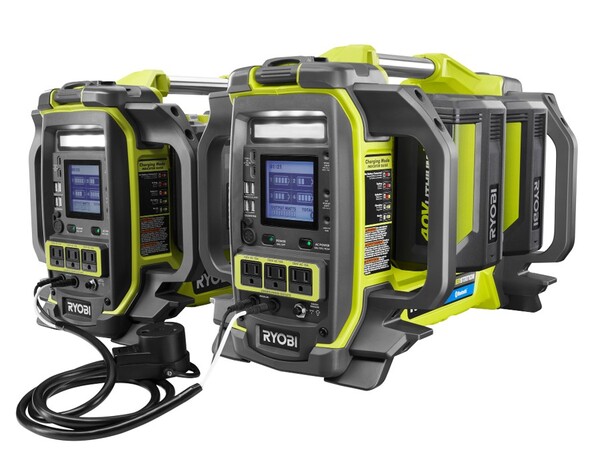 Parallel Capable
Connect another Ryobi 40V Battery Power Station or Ryobi Inverter Generator using a parallel kit, giving you twice the power and run time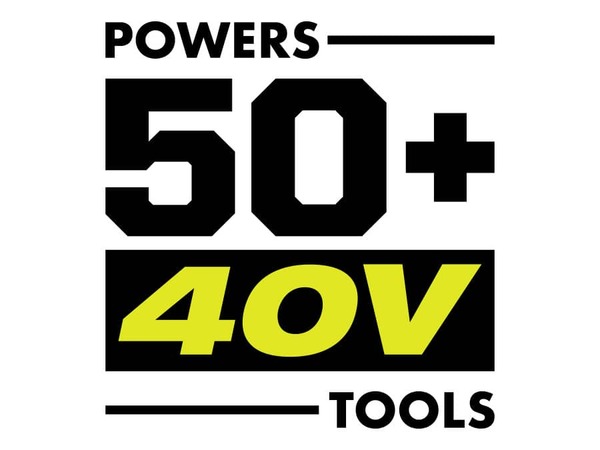 System Compatibility
Compatible with all Ryobi 40V batteries
Specifications
Dimensions
Watts (Starting)

3000

Watts (Running)

1800

Outlets

(3) Household Outlets, 120V 15A & (4) USB-A Ports, 5V 2.1A(x2) Shared & (2) USB-C Ports, 5/12/20V 3A max

Electrical Output

Pure Sine Wave

Warranty

5 Year Tool Warranty

Weight

12 lbs.
Includes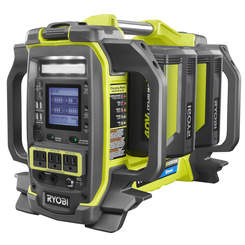 40V 1800 WATT POWER STATION
[#<ProductFeature id: 3299, title: nil, content: "40V 1800 WATT POWER STATION ", photo: "fb5d3b08-9f05-4a61-b765-1fe03aff07e3.jpg", created_at: "2020-10-09 01:43:34", updated_at: "2020-10-09 01:43:34", product_id: 1426, sort: 0, enhanced_type: "included_item", enhanced_group: nil, enhanced_icon: nil>, #<ProductFeature id: 3306, title: nil, content: "(2) 40V 6.0 Ah Batteries", photo: "e8729f3d-a82d-488c-ad8b-a017824e1987.png", created_at: "2020-10-09 01:55:35", updated_at: "2021-02-23 18:46:09", product_id: 1426, sort: 1, enhanced_type: "included_item", enhanced_group: nil, enhanced_icon: nil>]
Reviews
40V 1800 Watt Power Station / 4-Port Charger
40V 1800 WATT POWER STATION KIT
is rated out of
5
by
77
.
Rated

3

out of

5
by
Stanleybme
from
Well made but limited versatility
I purchased these as a portable power source as well as use for storm power outages. Living in Florida has lots of advantages and many challenges with power and storm outages. My plan is to battery power to run a garage refrigerator and garage freezer on one unit and use another unit for house refrigerator and additional lights etc. I already use a 40v inverter for my cable and tv and that works well. So I purchased the Power Station with 2 6amp batteries. I also purchased 4 12amp batteries to improve / increase my run time. Using 2 6amp & 2 12amp batteries, I connected the refrigerator & freezer to the power station to correct gauge the amount of run time I would get. I was very pleased to obtain close to 8+ hours on those 4 batteries. Very happy with this for short term power outages. Now that I have a baseline I need to figure out how to recharge the 40v batteries without using my gas generator. The Power Station does not have a solar connection capability& is VERY slow to recharge batteries in the unit. It also cannot provide power while it is used to charge the batteries. I am heavily invested in Ryobi tools and batteries so switching to a different manufacturer is not happening. Need to have a solar solution and rapid charger solution but is not offered by Ryobi. I will have to run my generator during the daytime for house needs and guess I will charge the batteries for overnight use.
Date published: 2023-05-15
Rated

5

out of

5
by
Derock
from
Charges everything you need fast
I do not have one , but a friend does and he brags about it all the time. It is definitely on my wish list to have one !!!!!
Date published: 2023-05-15
Rated

5

out of

5
by
Tailgater
from
Solid Built
I originally bought this as a backup power source for my electronics. Then, I started using it for tailgating and camping and this thing is awesome. Solid Built. App work great with my Android phone. You can switch out batteries while it's being used. The only limit on Power Station is that it can only lay on 4 of the 6 sides.
Date published: 2023-05-04
Rated

5

out of

5
by
SteveMcC
from
Great indoor emergency power
I bought this for two purposes. 1) Emergency power for our sump pump in case of a storm outage. 2) Extra batteries to use with my outdoor 40v tools. My unit came with four 6ah batteries.
Date published: 2023-05-03
Rated

4

out of

5
by
Boomer24
from
Great for camping 👍
Runs all my camping gear with no problem, even my fridge
Date published: 2023-05-03
Rated

5

out of

5
by
Leland64
from
Works with boat lifts
It does what I bought it for. I didn't find any reviews about whether this generator would power a boat lift so I bought it knowing I could return it. My docks don't have electricity so I have to use gas generators that are heavy and require maintenance to keep going. They are also noisy when using to power equipment such as power washers. This generator came with two 6ah batteries which I full charged before testing. The generator quickly lifted both lifts without any problem. I haven't tested it with the power washer yet. Since I just bought it and boating season is just beginning I'll post a follow up review if my experience changes.
Date published: 2023-04-23
Rated

4

out of

5
by
WeatherBoy
from
Great portable power
Have only used it a few times for camping. Kept the lights on and the radio playing all weekend with no problem. My only complaint was the description on the Ryobi website, it was not specific enough on what is the IP Rating is. For something that is made for powering jobsites and camping, it is not very water resistant.
Date published: 2023-04-17
Rated

4

out of

5
by
RyobiJunky
from
Easy to use,
Purchased to use at work during short power outages, before having to get out my gas generator as well as while camping. Easy to use. I have a Ryobi 2300 gas generator I plan to use with the power station for longer outages but so far the power station alone works well. Really wish it had a "estimated run time" meter though. Under full or close to full load doesn't last very long. I've connected it with the parallel kit with my Ryobi gas generator but haven't actually tried it with any load yet.
Date published: 2023-03-02
Rated

5

out of

5
by
Anonymous
from
Great invertor and totally green! I love it!
I live in a rural area that has frequent outages. This has helped out on at least 6 different occasions. My 20 year old fridge stays cold for hours. Looking forward to adding larger Ryobi 12ah Batteries for added storage capacity.
Date published: 2023-02-28
Rated

5

out of

5
by
GooseC
from
Superior Alternative to gas
I have four of these. Two for our main home and one each for a condo and a cabin. These are the perfect solution for short term power outages. I can keep our pellet stove, freezers, and fridge running without having to turn on the gas generators. For general camping or outdoors work, they're easier than bringing along a portable gas generator. Having the ability to hot swap 40V batteries, I can keep them going indefinitely. I recharge the 40V batteries off of house power or off of a solar bank when necessary. When camping with USB sleeping bags, they provide days of warmth. As a test, I ran a window unit (5000 BTU ) AC for 2 hours off of the generator. If I had hot swapped to spare batteries and charged the others, this runtime could have easily extended indefinitely. Far easier to transport spare batteries and recharge them than to bring along lots of gasoline. And quieter.
Date published: 2023-02-27