+6
40V HP Brushless 18" Chainsaw with 5.0 Ah Battery and Charger
Model: #RY40580
40V HP Technology Delivers 75% More Power Compared to RY40570
Mechanical Chain Break for Kickback Protection
Side Access Chain Tensioning and On-Board Tool Storage for Easy Adjustments
More Power. Longer Runtime. Longer Motor Life.
Features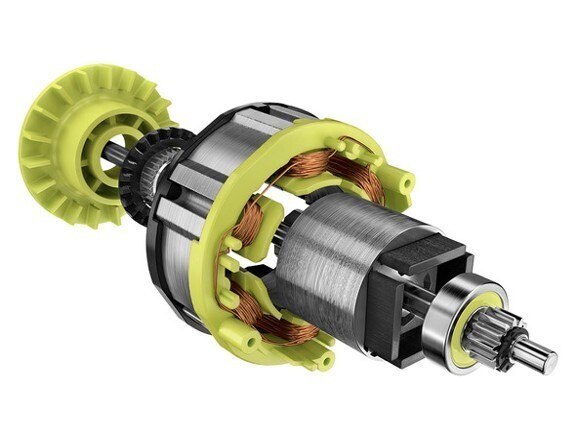 75% More Power*
Provided by the Brushless motor combined with advanced electronics and High Performance Lithium-ion Batteries *compared to RY40570
Mechanical Chain Brake
Stops chain automatically and provides kickback protection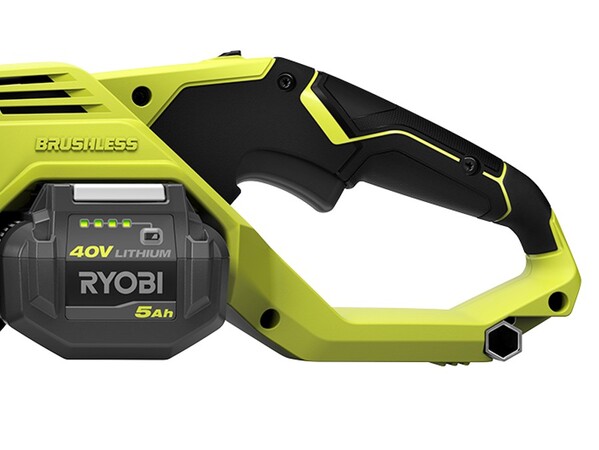 Variable Speed Throttle
Starts the chainsaw up instantly, saving you the frustration of gas/oil mixes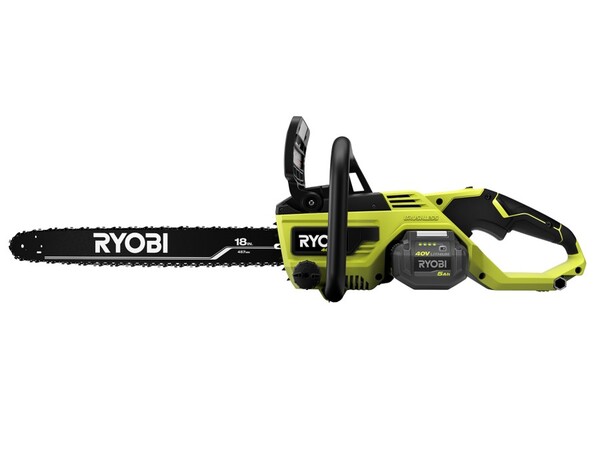 Easy Adjustments
Side access chain tensioning and on-board tool storage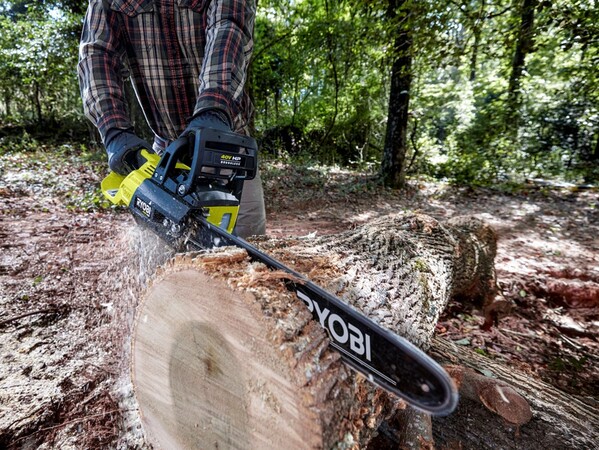 Adjustable Automatic Oiler
For convenient operation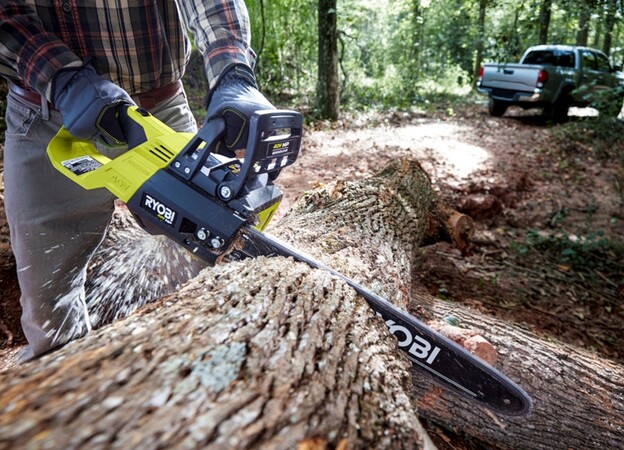 Carrying Case
For easy transport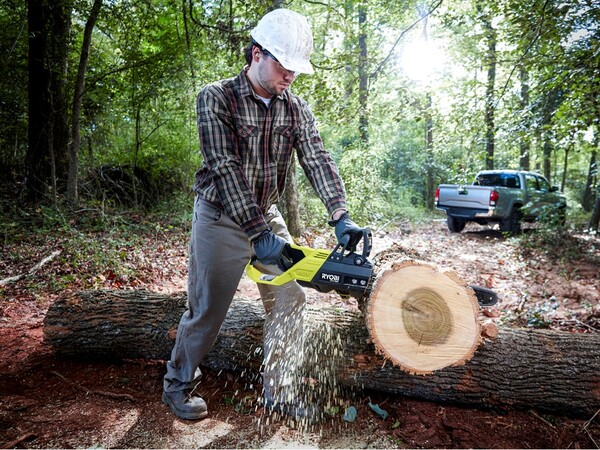 4X Faster Charging
Charges in 50 minutes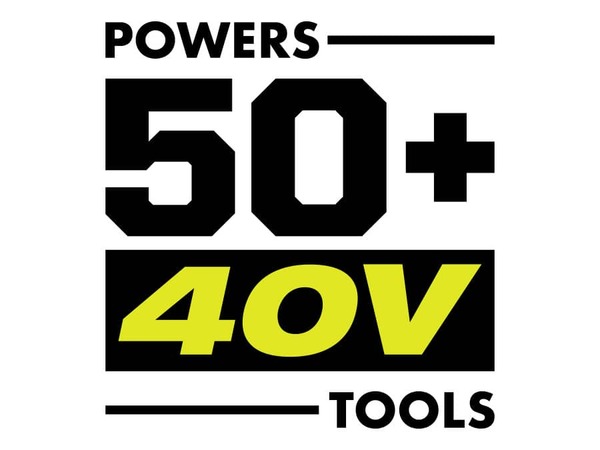 System Compatibility
Compatible with all RYOBI 40V tools and chargers
Specifications
Dimensions
Bar Length/Chain Size

18"

Weight

13.2 lbs.
Details
Battery

40V 5.0 Ah Battery

Chain Oiler

Automatic

Replacement Chain

Y62 .050
Warranty
Warranty

5 year tool warranty and 3 year battery warranty
Includes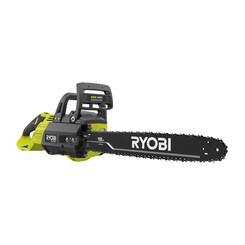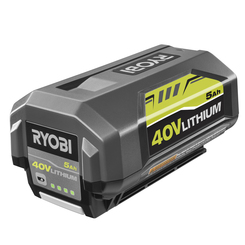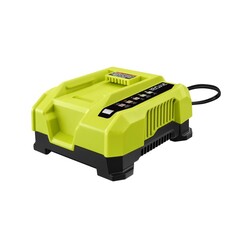 [#<ProductFeature id: 3936, title: nil, content: "40V HP 18\" Chainsaw", photo: "8c46e82f-b2a7-4f75-8281-471db5688f95.jpg", created_at: "2020-12-03 22:18:36", updated_at: "2020-12-03 22:18:36", product_id: 1501, sort: 0, enhanced_type: "included_item", enhanced_group: nil, enhanced_icon: nil>, #<ProductFeature id: 3937, title: nil, content: "40V 5.0 Ah Battery", photo: "52412c0c-f996-4aef-a0f6-e9fa6e48b422.jpg", created_at: "2020-12-03 22:18:37", updated_at: "2020-12-04 01:28:31", product_id: 1501, sort: 1, enhanced_type: "included_item", enhanced_group: nil, enhanced_icon: nil>, #<ProductFeature id: 3938, title: nil, content: "40V Charger", photo: "d228c319-d6be-4243-8bde-ca48f9060855.jpg", created_at: "2020-12-03 22:18:37", updated_at: "2020-12-09 21:58:28", product_id: 1501, sort: 2, enhanced_type: "included_item", enhanced_group: nil, enhanced_icon: nil>]
Reviews
40V HP Brushless 18" Chainsaw with 5.0 Ah Battery and Charger
40V HP 18" Brushless Chainsaw with 5.0 Ah Battery and Charger
is rated out of
5
by
37
.
Rated

5

out of

5
by
HalDIY
from
Doesn't stink from 2-cycle pre-mix!
Isn't as loud as 2-cycle chainsaws either! And I don't have to drag a cord a couple hundred feet like my electric saw. Plenty of power from the 40V HP system. I took down a 10 inch and and 8 inch tree then trimmed and cut up the 10 inch till I was down to brush before the battery wore out. Comes with carrying case and integrated scabbard. Used about 3/4 of the chain oil in two battery charges. Many features to reduce kickback risk. It is no lumberjacking tool but is great for my occasional landowner use.
Date published: 2020-12-31
Rated

5

out of

5
by
Javy254
from
Awesome Awesome Awesome!!
I bought this 40V HP 18" Brusheless Chainsaw and it works amazing!! No need for all that 2cycle oil and gasoline or wasting gasoline and getting all messy. It's battery powered and saves you money and don't have to worry about all that smoke that you get from a traditional gas powered one and all that loudness. Never thought a battery powered chainsaw would do exactly as a gas one can do. Plus it way more quieter and I love the safety switch it has so you won't accidentally hurt yourself or others . I feel like Ryobi is going to be in my life for a while keep it up Ryobi!!! 10 stars!!!
Date published: 2021-04-05
Rated

5

out of

5
by
Soundchaser
from
Worth the wait
Originally I was waiting for the availability of the 16" version-- not sold in CANADA! I was even willing to drive down to the States but, Covid killed that idea. So it was a pleasant surprise when Ryobi came out with an 18" version with heavier battery for $30. more! Love this thing. So light with a decent lasting charge. No it does not have gas power, but what it does have is good power to knock down 16" trees on my property. This is a consumer chainsaw and as long as you don't give it contractor abuse it should hold up fine.
Date published: 2021-04-01
Rated

5

out of

5
by
chose2021
from
18" is where it's at ...
I've been waiting and watching ... finally saw a good review on the 16inch (because you don't get the full length to cut with) and was planning on getting that one, but 18inch came out before I could get to the store and went for it... no doubt worth it. *first day I cut down my planned 3 plum trees, cut a half cord of 4-8in branches of oak/hickory, and then cut various things that looked like they wanted cutting around the property line ... still had 2 bars left on battery when done *tip carving was a little difficult with this, but that's not the main reason I bought it
Date published: 2021-04-12
Rated

5

out of

5
by
Fix_it_dad_spokane
from
The perfect home owner chain saw
The 18-in Ryobi 40 volt chainsaw is just what I needed. I have several log sections that the tree crew left a bit long for my insert. This chain saw made short work of the cuts I needed to make. Plenty of power to cut through. As with all tools don't force the tool, but let the tool do the work. This is so much quieter than a gas saw, you dont need to use hearing protection, or if you need to cut late into the night, you wont keep the neighbors up. You should still wear eye protection, leather work gloves, sturdy boots ( bonus for steel toe) and jeans or chain saw chaps. This will also come in handy in the middle of summer to do cean up at the in-laws cabbin when fire danger is stupid high. Unless you strike a rock or metal object, the 40v saw wont have same fire danger as a gas saw. You also wont have to mix gas anymore or clean out the carb. The bar oil window shows the current level of bar oil.The amount of bar oil dispensed is also adjustable with the included wrench that sits under the handle. The 40v battery charger has a cooling fan, and charges quicker than I expected. The charger has status led's that show status of battery when it is plugged in and charging. The saw is very easy to use and I am VERY happy with it.
Date published: 2020-12-13
Rated

4

out of

5
by
Jrgoodtyme
from
Great Saw, Cuts Well
This is a great saw and comes with a lot of great features. Very well thought-out, I love that the scabbard not only sheaths the bar and chain but the bucking spikes as well. The bucking spikes are plastic not metal which is part of the reason this saw lost a star. The handle is a little slick and does not have much traction. This chainsaw has an actual hand guard chain brake, the other Ryobi chainsaws that I have used lacked this feature. There was plenty of space between my knuckles and the chain brake, unlike anothet Ryobi chainsaw, so I was not constantly scraping my hand against it. This chainsaw also lacks a tool free tensioning system, I prefer that over the scrench because no matter what I am always able to tighten the chain, whereas with the scrench if I drop it or lose it, then I am out of luck until I find a replacement. This came with the rapid charger which is good, to me the chink in Ryobi's 40v line has always been the looooooong recharge times. The rapid charger charged my 5.0 Batt in about an hour, compared to about 6hrs with a regular charger. I used this to cut up a log and branches in the yard and this did a good job, this has a load sensing system so as it came across harder surfaces it picked up the speed. The chain brake worked right away, stopping the chain just about immediately. Whereas when you simply release the trigger it took about 3 seconds for it to stop . The carrying case work a great as well. I have about 10 battery operated chainsaws that I mainly use for storm debris removal, this will not be goto saw but will definitely be my #2 The manual is very informative Suggestion: Metal Spikes, an on board fuel Gauge, an LED( for storm cleanups when power is lost also, for the end of the day work when the day gets away from you and darkness falls)
Date published: 2021-02-19
Rated

5

out of

5
by
oxfordpaul
from
Just what I was looking for
I recently purchased this chainsaw and so glad I listened to the Home Depot salesman, he recommended this make and especially a battery operated chainsaw for my needs. I would say my only negative comment is that I wish it came with chain oil so I could use it immediately. Previous chainsaws have come with oil in the box. Other than that it's a great chainsaw and very easy to use.
Date published: 2021-03-14
Rated

5

out of

5
by
Stetson1
from
Awesome Power!
I had this thing for a few days and have used it quite a bit. The power this thing has is insane! i Have used it to cut a variety of different trees from big to small. It should be noted that i would not compare it to a gas of the same size when using it to cut down a bunch of trees all at once. Its great saw to use at the same time as a gas saw, when you want to do some quick cuts and not have to worry about leaving the saw running. I would recommend this saw. One tip is to purchase another battery to use it while charging the other.
Date published: 2021-04-16