+6
40V 300 WATT POWER SOURCE BATTERY INVERTER (TOOL ONLY)
Model: #RYi300BG
Perfect for Powering Small Electronic Devices: Laptops, Tablets, and Cell Phones
300 Watts of Continuous Power Output
Pure Sine Wave Technology: Safe for Small and Sensitive Electronics
+6
Convenient, on-the-go power wherever you need it
Features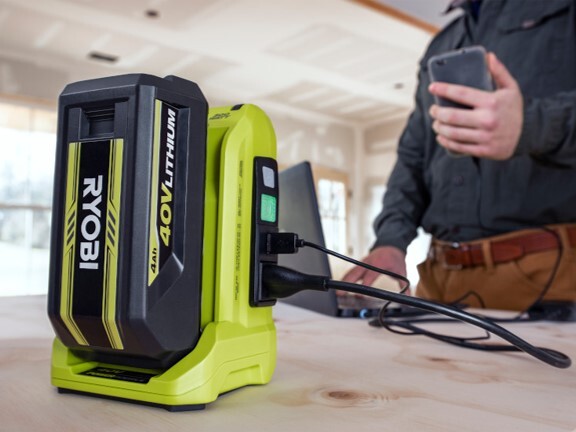 300 Watts of Continuous Power Output
For powering small electronics including laptops, tablets, and cell phones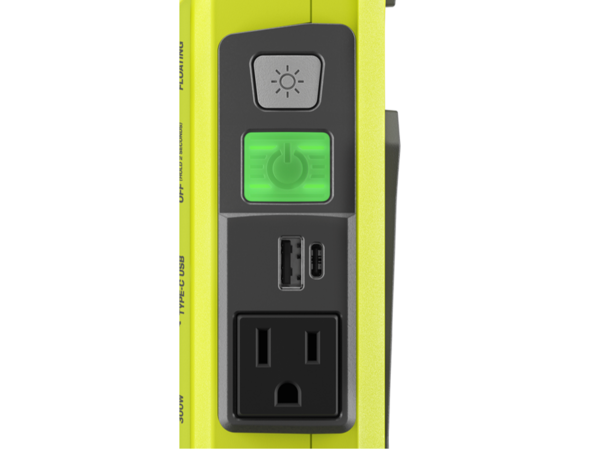 Included Outlets
(1) USB-A , (1) USB-C & (1) 120V Outlet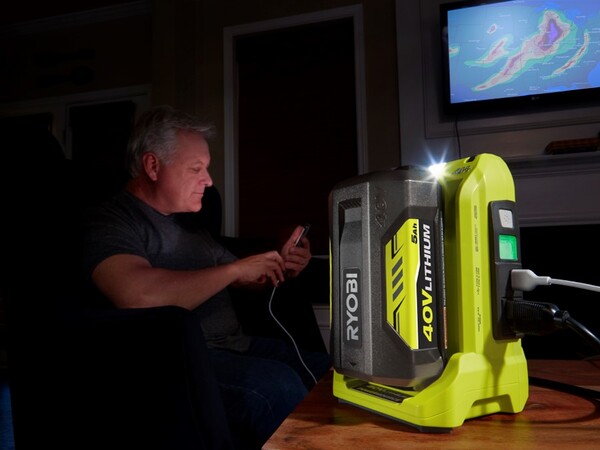 On-board LED Light
For user convenience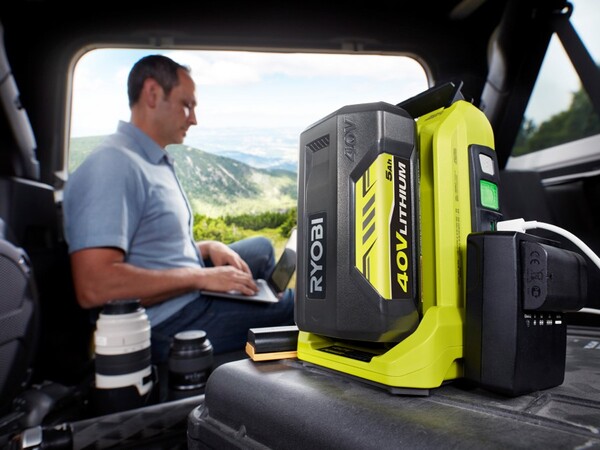 Pure Sine Wave Technology
Safe for sensitive electronics such as Laptops and Cell Phones
System Compatibility
Compatible with all Ryobi 40V Batteries
Specifications
Dimensions
Watts

300 Continuous

Outlets

(1) Household Outlet, 120V 2.5A & (1) USB-A Port, 5/9/12V 3A max. & (1) USB-C Port, 5/9/12/20V 2A max.

Electrical Output

Pure Sine Wave

Weight

2.25 lbs.

Warranty

3 Year Limited Warranty
Includes
40V 300 Watt Power Source Battery Inverter
[#<ProductFeature id: 4645, title: nil, content: "40V 300 Watt Power Source Battery Inverter", photo: "7b38c705-6efd-4546-bc16-9754e4b85888.png", created_at: "2021-02-23 20:56:05", updated_at: "2021-02-23 20:56:05", product_id: 1134, sort: 0, enhanced_type: "included_item", enhanced_group: nil, enhanced_icon: nil>]
Reviews
40V 300 WATT POWER SOURCE BATTERY INVERTER (TOOL ONLY)
40V 300 WATT POWER SOURCE
is rated out of
5
by
384
.
Rated

4

out of

5
by
Blunt skull
from
Convenient power!
I like the product! You get quite a bit of charge on small devices. Convenient in a power outage.
Date published: 2023-01-24
Rated

5

out of

5
by
TS2023
from
Great for power outages
This is my second 40 volt power source. At my mountain place, power outages are common. I have lots of workarounds since I don't like running the generator. This is one tool in my arsenal. I use it to run the wood stove fan, preheat the electric blanket, run a table lamp (with LED bulb) for quality lighting, run the internet, etc. I use RYOBI yard tools for land maintenance, always keep them charged, and make use of the batteries during power outages.
Date published: 2023-01-23
Rated

5

out of

5
by
ScottInKnox
from
Pure sine wave is better for electronics
My son was looking for a portable 110v inverter to charge his airsoft batteries between games. I was looking at the Ryobi 18v options when I saw this in the garden center. It mentioned that it has a pure sine wave output. The other Ryobi inverters (all 18v) output a modified sine wave (less efficient, less power). Because we wanted to charge batteries, we opted for this one. It worked as advertised.
Date published: 2023-01-22
Rated

5

out of

5
by
AndrewNiedringhaus
from
A truckers best friend!
I have owned this 40V inverter for quite some time now. I pull a gooseneck trailer coast to coast weekly. This does not come without maintenance issues. My trailer likes to eat 12V deep cycle marine batteries that service my air ride. Sometimes when you're in the middle of nowhere USA finding replacements or help is few and far between. I can't tell you how many countless times I've used this inverter with my 7.5ah 40V battery combined with a trickle charger to give my 12V deep cycle the little extra "umpf" it needs to get us to our destination. Thank you, Ryobi!
Date published: 2023-01-17
Rated

5

out of

5
by
Coach Brian
from
Very useful device. Glad to have it in my toolbox
I have been using this for a little over a month and it has proven to be very useful. Allowing to use some of my power tools in a pinch. I use 5AH and 6AH batteries and good a useful run time.
Date published: 2023-01-15
Rated

3

out of

5
by
donH455
from
light in bad position
light is almost useless because it is blocked by the battery. better position of light on side or front of inverter
Date published: 2023-01-02
Rated

5

out of

5
by
Camper Matt
from
Small but powerful!
Great project. With the largest capacity battery this will run a cpap machine all night! Would love the next version to have a 12v cigarette lighter socket!
Date published: 2022-12-29
Rated

2

out of

5
by
VtGaryW
from
Functionally Okay
Just bought this, and I have to say that my first impression was not good just because of how hard it was to get out of the blister pack. For a company pushing a line of supposedly eco-friend equipment, to use a huge non-recyclable blister pack on this is just completely and totally irresponsible. Getting it out without hurting yourself or the product was a challenge. On top of all the excess packaging it wasn't even designed to be easily opened. Just as a point of reference, I own 4 other Ryobi 40 Volt tools and have been happy with all of them. Functionally, it works fine. The power button is kind of flimsy, does not have a good solid feel to it. And for some reason, the batteries do not fit well in the slot, even when fully inserted in the connector, they wiggle from side to side so you feel they're very secure in there.
Date published: 2022-12-23