+7
40V VAC ATTACK™ Leaf Mulcher WITH 4AH BATTERY & CHARGER
Model: #RY40450
Optimized to produce superior suction power and mulching capabilities
Shreds up to 16 bags of leaves down to 1
Adjustable wheels allow for easy maneuver over a variety of terrains
+7
Clean up the yard quicker and easier
Features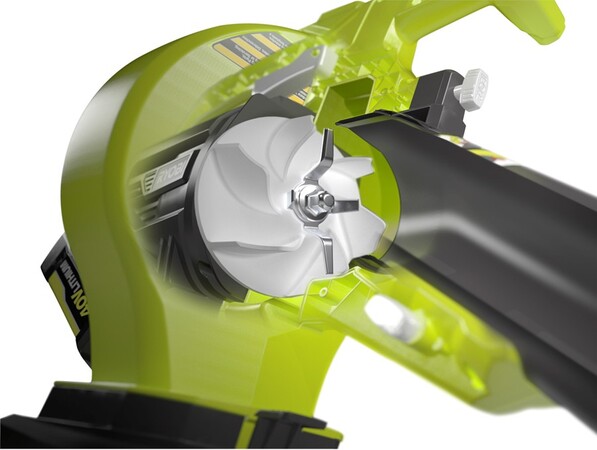 Durable Metal Impellers
For powerful 16 to 1 mulching ratio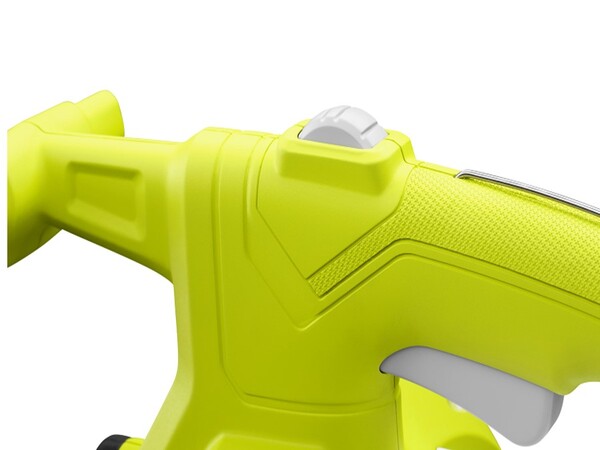 Variable Speed Dial
Ultimate power control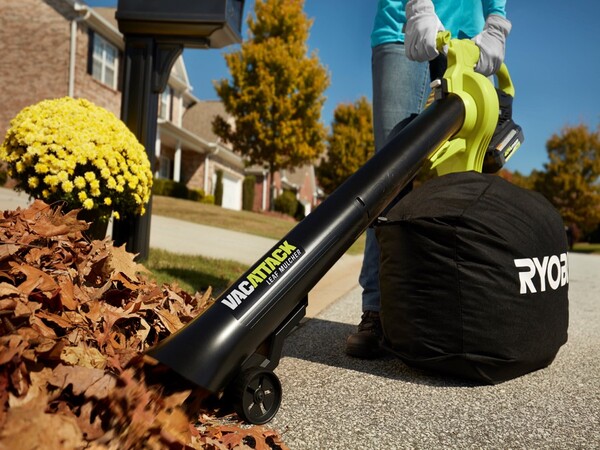 2-in-1 Vacuum Mulching Functionality
For optimal performance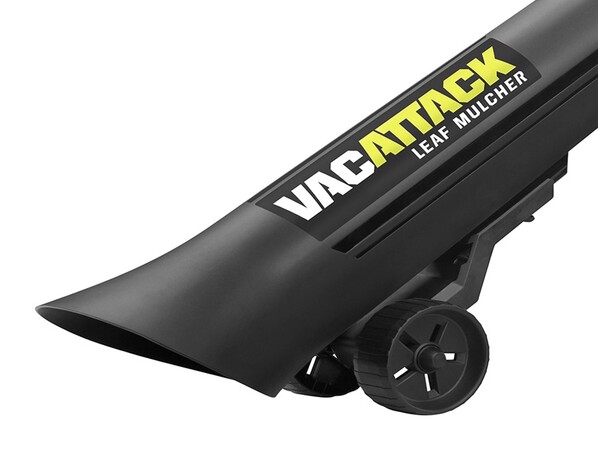 Adjustable wheels
For a variety of uses and terrain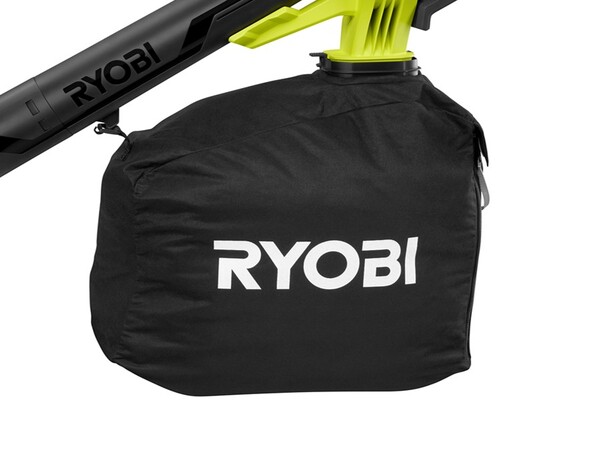 Heavy Duty Bag & Zipper
For durability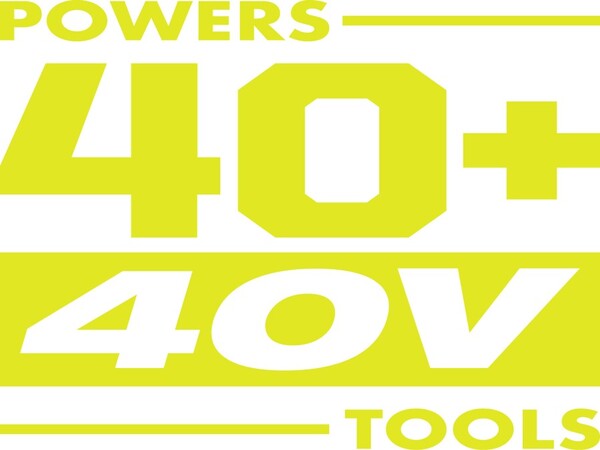 System Compatibility
Compatible with all Ryobi 40V tools and chargers
Specifications
Dimensions
Battery

40V 4.0 Ah Battery

Throttle

Variable Speed

Impeller Material

Metal

Mulch Ratio

16:1

Warranty

5 year tool warranty and 3 year battery warranty

Weight

12.7 lbs.

Watt Hours

144
Includes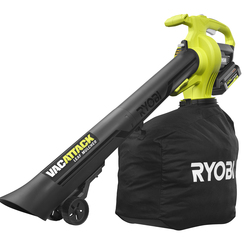 40V VAC ATTACK™ Leaf Mulcher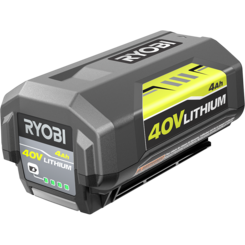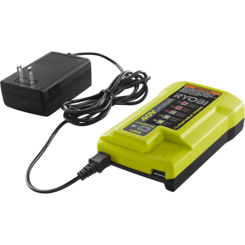 [#<ProductFeature id: 2521, title: nil, content: "40V VAC ATTACK™ Leaf Mulcher", photo: "4e531bae-c1f4-4e86-9c58-dab9d5954239.jpg", created_at: "2020-09-03 02:29:22", updated_at: "2020-09-03 02:29:22", product_id: 1070, sort: 0, enhanced_type: "included_item", enhanced_group: nil, enhanced_icon: nil>, #<ProductFeature id: 2522, title: nil, content: "40V 4.0 Ah Battery", photo: "724d8df1-bdfe-4371-a452-b90cf8534a66.png", created_at: "2020-09-03 02:29:26", updated_at: "2020-09-15 18:17:19", product_id: 1070, sort: 1, enhanced_type: "included_item", enhanced_group: nil, enhanced_icon: nil>, #<ProductFeature id: 2523, title: nil, content: "40V Charger", photo: "a25ca3f9-eda6-4232-aa24-ba676ccefe54.png", created_at: "2020-09-03 02:29:31", updated_at: "2020-09-03 02:29:31", product_id: 1070, sort: 2, enhanced_type: "included_item", enhanced_group: nil, enhanced_icon: nil>]
Reviews
40V VAC ATTACK™ Leaf Mulcher WITH 4AH BATTERY & CHARGER
40-Volt Lithium-Ion Cordless Leaf Vacuum/Mulcher with 4.0 Ah Battery and Charger Included
is rated out of
5
by
248
.
Rated

1

out of

5
by
Dral97
from
Eh.
Had this a few years now. Was working well. Used about 3 times per year. The blades stopped spinning but the vacuum still works. Don't make things like they used to.
Date published: 2023-04-13
Rated

1

out of

5
by
Johnny73
from
Garbage Do not Buy
Wheels broke off Bag poorly designed Bag clip broke Battery not holding charge Stops after a few seconds I called 3 times for support and all 3 times they said parts being sent out but never arrived I am NOT buying anymore Ryobi I left it at the curb and 3 people said Oh Ryobi! And left it behind. I tried Ryobi but you never kept your promises so we are breaking up forever My new 40v lawn motor and new tools will not be Ryobi
Date published: 2023-04-13
Rated

4

out of

5
by
WilliamCW4
from
Picks up leaves well
Works really well. A little heavy. Hads good power, picks up leaves and debris really well.
Date published: 2023-03-16
Rated

2

out of

5
by
IanJSR
from
Poorly designed bag
The bag that came with the product split at a seam and the wheels cracked. Ryobi replaced the bag and promised to replace the wheels. Bag was replaced the wheels never materialized. Now once again the new bag has split and vacuumed leaves simply spew out of the hole. I have tried to repair with duct tape but of course that doesn't hold for long. To transport the product I removed the long tube. When I replaced it the unit wouldn't work! This is a useful tool but the design and reliability leaves a Lot to be desired.
Date published: 2023-02-21
Rated

3

out of

5
by
Jerry Chiefs
from
Poorly designed bag kit
Clip pops off when you run equipment. Bag doesn't seal well…leaf shavings. Inside of bag mulched material sticks to it
Date published: 2022-10-18
Rated

5

out of

5
by
Tkelley
from
Great leaf vacuum!
This has great power for sucking leaves off the lawn. It pulls up most of the leaves on the grass. It doesn't get the ones that are deep in the grass unless I go over it a few times, but after I mowed, they came right up.
Date published: 2022-10-07
Rated

2

out of

5
by
Bro Staedt
from
Bag keeps falling off
The clip to hold the bag on is woefully inadequate. I called your customer service line and was told to 'Twist the attachment strap several times'...which doesn't work. It is also poorly balanced. You need an attachment pipe for anyone who is over 5'8". The bag itself doesn't open easily with the dual zippers, and the Velcro closure is easily compromised by stuff sticking to it when you open the bag. Once again, I gotta wonder if the people who designed this actually use the product. It does a decent job of mulching, and not picking up rocks ( I have to vacuum a lot of leaves off gravel; the reason I bought it ), but emptying the bag is problematic - it should be like your lawnmower grass catcher, a simple mechanical hookup.
Date published: 2022-10-03
Rated

2

out of

5
by
Tacham5690
from
the weak link is the leaf bag
I bought this last year and almost immediately, the bag was a problem. The first major issue was the tab about half way down the suction tube does not capture the loop on the bag, so the bag drags on the ground and, as it becomes increasingly full, becomes difficult to control as all the weight is swinging around under the motor. the second major issue is the zipper fail the first time I tried to open the bag to empty it. I managed to get it zipped back up and would empty it through the attachment point, ,but now the ziper has failed completely and it will not stay closed when in use. I've tried to find a replacement bag, but have been unable to, making the tool useless.
Date published: 2021-05-22
Rated

1

out of

5
by
mwinsr
from
Buyer Beware!
I received this as a Father's Day gift in 2020. I only used it 6 or 7 times and it stopped working. I called the company to get it serviced, but only got the run arounds. The service companies will only fix gas powered Ryobi devices, as this is battery powered.
Date published: 2021-04-28
Rated

4

out of

5
by
Grass man Dan
from
Great product for quick cleanups
I have used this leaf and debris vacuum for about 2 hours, had some tricky slots to clean out and it got the work done. I wish the price was a little lower because it wasn't as strong and a plug in or gas operated vacuum. But that's sometimes what you get when you go for the battery operated equipment
Date published: 2021-04-26