Cordless Nailers (or "Nail Guns") are tools that drive nails/brads. Many nailers are powered by compressors or gas cartridges, but for easy Do-It-Yourself kinds of jobs, battery-operated cordless nailers are easier to use and less expensive over time.
Nailers aren't just for professionals anymore! Much faster than a hammer, you'll be amazed how much you can accomplish with a Cordless Nailer. Be sure to check out the introduction video and get ready to start building.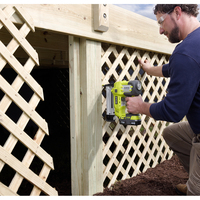 When possible, hold the nailer perpendicular to the work surface.
This may not be possible when firing along a floor, but whenever you can, hold the gun perpendicular to the work surface. The direction of the nail can make a difference to the sturdiness of the project.
Edges are easy to split with larger nails. Mind you don't get too close.
If you're using an 18 gauge or smaller, you can get very close to an edge without splitting the wood. However, if you're using a 16 gauge or larger, back off at least an inch from the edge of your work piece.
Use a stapler or smaller tool for paper and cardboard projects.
Brad, Finish and Framing Nailers are not meant to be used on cardboard and thinner materials.
For big jobs, use a high capacity battery
If you're undertaking a big project, go ahead and get the biggest battery for your nailer. It will save you a lot of time.
Use Sequential Fire (one-at-a-time) for precise jobs.
When you want to make the job look as tidy as possible, fire in sequential mode. This mode drives one nail with each pull of the trigger.
Blow Out
When a nail comes out of the material where it's not supposed to. Often happens because the nailer was held at a drastic angle, or because the material was too hard for the drive settings.
Instructions: Adjust the drive settings before you begin working to make sure they can handle the material. Don't hold the nailer at a drastic angle that might allow the nail to come out.
Brad
A small nail. Usually 18 gauge
Brad Nailer
A nailer that fires small nails or brads.
Best for trim work, and molding. Also great for general DIY projects such as picture frames.
Contact actuation
Or "bump feed", a setting on nailers that tells the nailer to fire a nail as soon as the nose piece is depressed. Allows user to fire nails rapidly.
Great for projects that require fast nailing / constructing
Depth of Drive
How deep the nailer drives the nail. Usually adjustable.
Dry Fire
When the nailer fires, but there are no nails in the magazine. Can often damage the work surface as the driver blade may come in contact with the surface and dent it.
Dry Fire Lock out
A feature included with some nailers that prevents the nailer from firing if there are no nails in the magazine.
Finish Nailer
A nailer that fires thicker nails usually 16-15 gauge.
Great for heavier crown molding, and small furniture projects.
Flush
When a fastener's head is even with the surface of the material.
Framing Nailer
A nailer that fires heavy-duty nails, ex: 10 gauge.
Great for remodeling projects that require framing.
Gauge
The measurement term that refers to the thickness of the nail. The lower the gauge, the thicker the nail.
Magazine
The chamber where nails are loaded and fired.
Nail Set
A tool used with a hammer to drive the head of a nail deeper in the material.
Might be used for: Completely driving a nail that is sticking out slightly.
Pin
A small fastener, usually 23 gauge.
Best for crafts and decorative work.
Pinner
A nailer that fires small pins (usually 23 gauge).
Best for crafts, and decorative projects.
Pressure
How much force the nailer uses drive the nail. Usually adjustable.
Sequential Firing
A setting that requires the user to pull the trigger each time he/she wants to fire a nail. Slower, but more accurate nail placement.
Great for projects that require precise nailing/ finish work
Set
A driven nail is a set nail.
Subflush
When a fastener sits just below the surface of the material.